Green Bean Casserole
Japanese-Meets-American Green Bean Casserole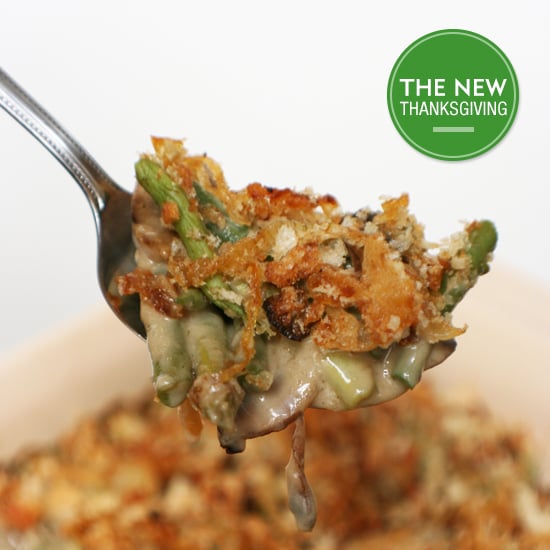 A green bean casserole isn't a green bean casserole unless it's smothered in cream of mushroom soup and topped with crispy onions. But because the original Campbell's recipe uses soy sauce to add a boost of umami, I decided I'd try a version of green bean casserole that plays up Asian flavors.
This casserole tastes every bit as indulgent as the original recipe, but it's made lighter by thinning the cream of mushroom soup with vegetable broth. In this Japanese-meets-American rendition, I caramelized the onions and deglazed them with mirin, a sweet Japanese rice wine. Rather than relying on French's fried onions from the can, I breaded the onions in panko (Japanese breadcrumbs). The buttery, breaded, and caramelized onions have a richer flavor than the fried, packaged stuff and are like savory sprinkles atop the creamy green beans and mushroom mixture.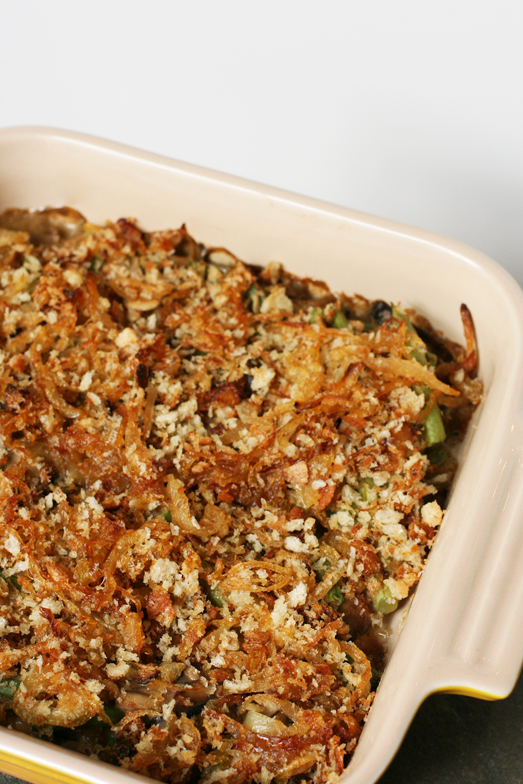 If you're fearful that this dish will taste like stir-fry, don't worry: the resulting dish maintains the integrity of the classic American casserole. As the casserole cooks, your kitchen will be infused with the smell of buttery onions and earthy mushrooms; you'll know it's ready when the thick cream of mushroom soup starts to bubble through the crispy caramelized onions.
Notes
If you have access to Japanese mushrooms like king trumpet, swap those out for standard button mushrooms.
Ingredients
2 tablespoons butter, preferably clarified, separated
2 onions, cut in half-moon slices, with the grain
Pinch of salt
2 pinches of sugar
2 tablespoons mirin or white wine, separated
2 6-ounce containers mushrooms, thinly sliced
1 can (about 10 3/4 ounces) cream of mushroom soup
1/2 cup vegetable broth
2 teaspoons soy sauce
4 cups green beans
Salt to taste
1-1/2 cups panko or breadcrumbs
Directions
Preheat a large sauté pan over medium high heat, then melt 1 tablespoon butter. Add onions, and cook for 10 minutes or until onions have wilted considerably. Add salt and sugar and cook until caramelized. Once onions are a light caramel brown color, about 50 minutes to 1 hour of cooking, add one tablespoon of mirin. Quickly deglaze the pan by scraping up any browned bits from the bottom of the pan and mix them into the caramelized onions. Once liquid has completely evaporated, transfer onions to a clean bowl and set aside. Return sauté pan to the stove for later use.
Meanwhile, preheat oven to 350°F. Fill a large stock pot with water, and bring to a boil over high heat. Salt until water tastes of tear drops, about two tablespoons.
Preheat the large sauté pan over medium high heat. Melt butter, then add mushrooms. Do not move mushrooms and allow them to brown on one side, about 3 to 5 minutes. When mushrooms begin to brown, quickly flip them, and allow to brown on the other side, about 3 to 5 minutes. Once mushrooms have wilted and turned a caramel brown color, add 1 tablespoon of mirin and deglaze the pan again. Add cream of mushroom soup, vegetable broth, and soy sauce. Turn down heat to medium low.
In the large stock pot, add green beans to boiling, salted water. Cook until tender, then drain the beans in a colander, and stir into mushroom soup mixture. Mixture should be thick, but if it appears too runny, turn heat up to medium high and cook until mixture reduces down. Salt to taste. Then, pour the contents of the sauté pan in a buttered casserole dish. Mix panko or breadcrumbs with caramelized onions, and sprinkle over casserole. Bake until mixture bubbles and is golden brown on top, about 25 minutes.
Serves 6.
Information
Category

Vegetables, Side Dishes

Cuisine

North American