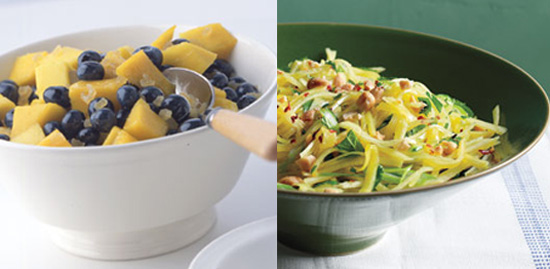 Aside from berries, one of my favorite fruits to enjoy during the Summer are mangoes; I love their sunny, peachy-sweet flavor. But it wasn't until recently that I started cooking with unripe mangoes. Green mangoes, as they're also called, are popular in Thai cooking. They have a crisp texture, and a tart, rather than saccharine, quality that's optimal for savory applications.
Purchase green mangoes while still firm, and use them before they ripen. Enjoy them julienned and lightly dressed in a salad with a salty and spicy sauce, served alongside protein such as grilled pork, chicken, or tofu. Just for comparison purposes, why not serve a fruit salad with sweet mango for dessert? Enjoy both mango preparations when you keep reading.
Ingredients
2 limes
1/3 cup water
1/3 cup sugar
2 large mangoes (2 1/2 lb total), peeled and cut into 1-inch pieces
3 cups blueberries (3/4 oz)
1/4 cup finely chopped crystallized ginger (1 1/2 oz)
Directions
Remove zest from 1 lime in strips with a vegetable peeler and cut any white pith from strips with a sharp knife. Squeeze 3 tablespoons juice from limes. Bring zest, water, and sugar to a boil in a 1-quart saucepan, stirring until sugar is dissolved, then boil, uncovered, about 3 minutes. Remove from heat and stir in lime juice. Let syrup stand 20 minutes, then remove zest with a slotted spoon and discard.
Toss together mangoes, blueberries, and syrup in a large bowl and sprinkle with ginger.
Serves 6.
Information
Category

Salads, Fruit

Cuisine

North American
Ingredients
2 tablespoons fresh lime juice, plus more to taste
2 tablespoons fish sauce, plus more to taste
1 teaspoon sugar, plus more to taste
2 green mangoes, peeled, pitted, and cut into thin strips
3 scallions, very thinly sliced
1/4 cup fresh cilantro leaves
1/4 cup fresh mint leaves, chopped
2 tablespoons chopped peanuts
1/2 teaspoon red-pepper flakes
Directions
In a large bowl, whisk together lime juice, fish sauce, and sugar until sugar dissolves. Add mangoes, scallions, cilantro, and mint and toss to coat. Taste and adjust seasoning with additional lime juice, fish sauce, and sugar as desired. Top with chopped peanuts and red-pepper flakes.
Serves 4.
Information
Category

Salads, Fruit

Cuisine

Other Asian