 Soups and salads are a great way to transition from Winter to Spring — it's true, even the San Francisco Chronicle thinks so. If you're not so keen on pea soup, then maybe this tantalizing Spring pea salad will entice you instead. It's minty and refreshing, with a hint of lemon to give it just the right zing. Also, the color is perfect for any St. Patrick's Day celebration, so get the recipe, just
.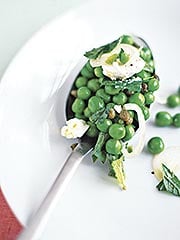 Ingredients
1/2 cup fresh mint leaves, torn
1 tablespoon capers, roughly chopped
1 small shallot, thinly sliced
1 teaspoon grated lemon zest
1/4 cup extra-virgin olive oil
1/8 teaspoon kosher salt
1/4 teaspoon black pepper
1 pound green peas, blanched (if fresh) or thawed (if frozen)
1/2 cup (4 ounces) crumbled goat cheese
Directions
In a medium bowl, combine the mint, capers, shallot, zest, oil, salt, and pepper.
Add the peas and goat cheese and toss gently. Serve at room temperature.
Yield: Makes 4 servings
NUTRITION PER SERVING
CALORIES 357(63% from fat); FAT 25g (sat 9g); SUGAR 7g; PROTEIN 15g; CHOLESTEROL 30mg; SODIUM 228mg; FIBER 6g; CARBOHYDRATE 19g
Information
Category

Vegetables, Salads