Green Tea Salad Dressing
Match a Bento Salad With Matcha Dressing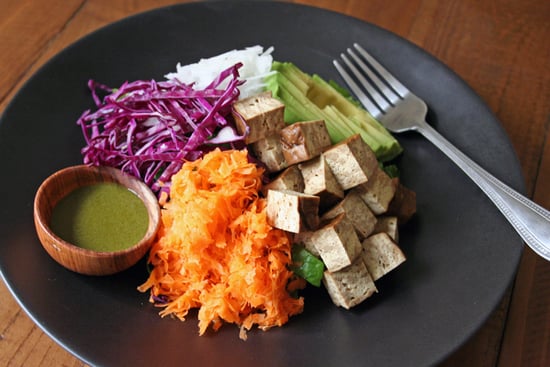 Common in Japanese cuisine, bento boxes consist of divided sections of vegetables, protein, and grains that are carefully arranged in an attractive way to amplify the allure of even the most simple food preparations. They make a tidy take-to-work lunch, too. This Japanese salad, organized in bento fashion, is a fresh take on a fast, easy, and portable lunch option.
The matcha dressing, which draws the flavors of the raw vegetables and tofu together, makes this salad truly memorable. Inspired by a Republic of Tea employee who experimented with The Republic of Tea U-Matcha ($18) in a salad dressing recipe, it was loved so much that the company decided to print the recipe on a pamphlet, which is included in each canister of the tea. I used U-Matcha Yuzu, a citrus-scented matcha green tea, to heighten the fresh, zingy tang of the dressing; however, regular matcha works well in this recipe too.
U-Matcha plays off of the Japanese term umami, the word used to describe the savory flavor in food. Even though matcha in tea form tastes grassy and earthy, when used in recipes like this salad dressing, it bursts with a flavor that is subtly fishy and sea-like (in a good way!).
The sweet carrots, spicy daikon, creamy avocado, tart cabbage, and crumbly tofu combine with the matcha dressing for a color- and flavor-rich salad that engages all the senses of the palate. Prep all the ingredients first, and place them in separate bowls or plastic containers to make it easier and faster to arrange the salad. Bonus: it's a cinch to store any leftovers for another day. Learn how to whisk a batch of matcha dressing for your next bento salad.
Ingredients
For dressing:
1 tablespoon lemon juice
1/2 tablespoon white miso
1 teaspoon olive oil
1/2 teaspoon white wine vinegar
1/4 teaspoon matcha tea (such as U-Matcha Yuzu)
Salt, to taste
For salad:
3 large romaine lettuce leaves, chiffonade
1/2 avocado, thinly sliced
1/2 daikon, shredded
1/2 carrot, shredded
3 red cabbage leaves, chiffonade
3 ounces marinated tofu (such as Hodo Soy Tea-Infused Tofu), chopped
Directions
To make the salad dressing: Whisk the lemon juice, miso, olive oil, and white wine vinegar together. Then whisk in the matcha. Add salt to taste.
To assemble salad: Bundle the lettuce chiffonade in the center of a large plate. Divide the avocado, daikon, carrot, cabbage, and tofu over the lettuce in even sections. Serve the dressing in a small bowl on the side, and drizzle it over the salad to your liking.
Makes 1 main-course salad.
Information
Category

Vegetables, Salads, Condiments/Sauces

Cuisine

Japanese