Gremolata
The Basics: Gremolata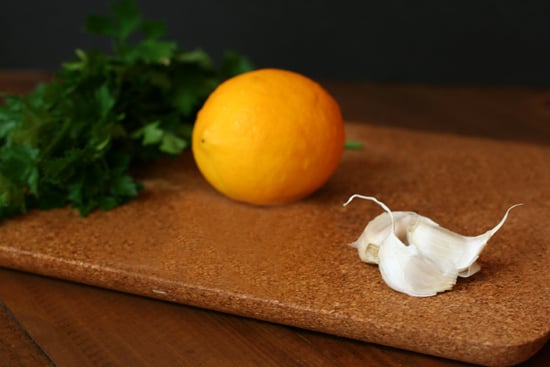 Part condiment, part salsa, gremolata is a traditional Italian herb mix made of chopped garlic, lemon peel, and parsley. It's most famously used to garnish the Italian braised veal dish osso buco, but here in Northern California, I've seen it used in everything from pasta to pizza. The fresh flavors from the lemon and parsley, plus the intense hit from the raw garlic, lighten up fatty foods, particularly those containing a lot of cheese or red meat.
It's so easy to chop together that there's no excuse not to make a small batch every day to sprinkle over just about anything: California-style pizza, pasta dishes, grilled fish or meat, steamed vegetables, and even Southern casseroles. Try using cilantro instead of parsley and orange instead of lemon for other variations. Also, play with the ratios. Sometimes a garlic-heavy, lemon-heavy, or parsley-heavy gremolata works better for certain dishes.
Be sure to chop the parsley on top of the other ingredients; it helps incorporate all of the flavors together into a paste.
Make the gremolata recipe now.
The Basics: Gremolata
From Anna Monette Roberts, YumSugar
Ingredients
2 or 3 garlic cloves
Zest of 1 meyer lemon
1/3 cup loosely packed parsley leaves
1 teaspoon olive oil
Salt to taste
Directions
On a cutting board, mince garlic, add lemon zest on top of garlic, and place parsley leaves on top of lemon zest. Chop everything until the parsley is finely cut and the mixture almost resembles a paste. Stir in olive oil and salt to taste. Refrigerate for up to 1 day.
Makes roughly 1/3 cup gremolata.
Information
Category

Condiments/Sauces, Salsa

Cuisine

Italian