Grilled Bananas Foster
Grilled Bananas Foster That Rivals Restaurant Quality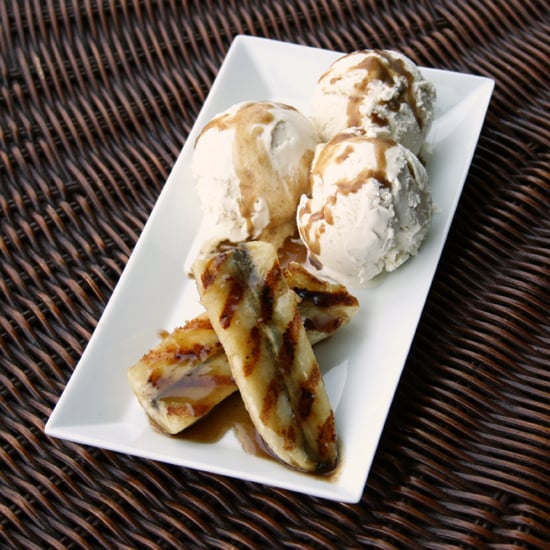 Bananas foster has been around since 1951, when it was first served at Brennan's Restaurant in New Orleans. It's a special-occasion treat, as it involves a chef wheeling out a cooking cart to the table to prepare a beautiful, bubbling caramel sauce with bananas. The most anticipated moment is when the chef ignites the rum-laden sauce, sending a bright, dramatic flame up into the air. The crowd always goes wild! The warm, syrupy bananas are served à la mode, and the extra sauce is spooned over the top.
My mother grew up going to this restaurant with her family, so any time she sees bananas foster on the menu, she's guaranteed to order it. As a child, I loved the flame trick more than the dessert; my palate did not appreciate its rum flavor until I was in college. Now, I'll practically fight my Dad to get the last spoonful of caramel! I've sought to re-create bananas foster at home, dazzling my family with my flambé skills. Grilling the bananas first offers a beautiful presentation and turns the caramelized flavor up a notch.
See a grill-friendly recipe for bananas foster.
Notes
Using firmer bananas will help ensure that they won't fall apart when cooked on the grill. If you only have ripe bananas, grill them over a piece of tin foil to prevent them from falling through the grill grates. If you don't have a gas-burning stove, use a stick flame to ignite the rum. Grilling the bananas is an optional (though suggested) step; if you skip it, add the bananas to the butter and sugar mixture once the sugar has dissolved, and cook for a couple minutes or until the bananas have softened slightly before proceeding with the recipe.
Ingredients
2 firm bananas, peeled, cut lengthwise, then halved
2 tablespoons butter, melted
1/3 cup brown sugar
1/4 teaspoon cinnamon
Pinch nutmeg
Pinch salt
1/3 cup dark rum
1 pint vanilla ice cream
Directions
To grill bananas: Preheat grill or cast iron grill pan to medium-high. Brush melted butter over banana pieces. Place bananas on grill. Do not move them, and sear for 4-6 minutes, or until light brown grill marks form. Flip over and repeat. Use a spatula to carefully remove bananas from the grill and set aside.
To make sauce: In a large sauté pan, combine brown sugar, spices, salt, and remaining melted butter. Over low flame, stir constantly until sugar dissolves. Add rum, and if sauce is hot enough, it will flame on its own. Otherwise, tilt pan away from you until it catches. Continue cooking until flame dies out. Add bananas, and cook 1-2 minutes or until heated through.
To serve: Scoop ice cream onto plates or bowl. Lay 2 pieces of banana per plate. Drizzle with rum sauce. Serve immediately.
Serves 4.
Information
Category

Fruit, Desserts

Cuisine

North American