Grilled Buttermilk Chicken Recipe
Sick of Barbecue Sauce? Then Use Buttermilk!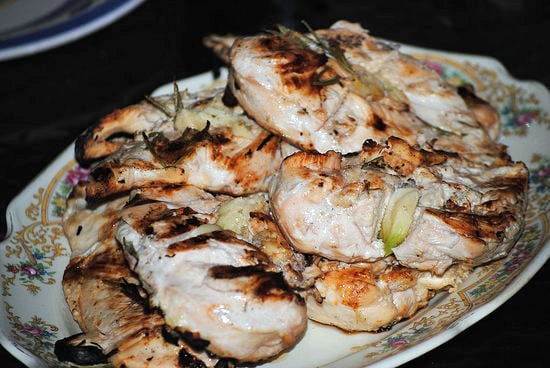 As much as I love sticky, sweet barbecued chicken, there're only so many times you can eat it during the Summer. That's why I recently looked for an alternative to barbecue sauce and decided to give this buttermilk-marinated grilled chicken a chance.
The buttermilk, which is seasoned with lots of garlic cloves and fresh rosemary sprigs, tenderizes the chicken. The key to making this chicken succulent and moist is to take care and not overcook it.
Although the recipe calls for a whole chicken, I had skinless breasts in the freezer, so I used those instead. However, when I make this savory and scrumptious chicken again, I'll be using skin-on pieces because I think it will enhance the overall flavor of the dish. It's a great seasonal entree, so learn how to make it now.
Ingredients
4 cups buttermilk
15 garlic cloves
1 cup fresh rosemary or thyme
Coarse salt and freshly ground pepper
3 whole chickens (about 3 pounds each), cut into 8 pieces each (then halve breasts on the diagonal)
Safflower oil, for brushing
Directions
Combine buttermilk, garlic, herbs, 2 tablespoons salt, and 2 teaspoons pepper.
Divide chicken between 2 baking dishes. Cover with marinade, turning to coat. Refrigerate for at least 4 hours or overnight, turning chicken occasionally. Remove chicken from refrigerator 30 minutes before grilling.
Heat grill to medium with direct and indirect heat zones. Brush grates with oil. Remove chicken from marinade, and pat dry with paper towels. Grill breast halves, thighs, and drumsticks, skin side down, over direct heat for 10 minutes*.
Flip, move to indirect heat, and grill, covered, until an instant-read thermometer inserted into the thickest part of thighs registers 165 degrees, 10 to 15 minutes. Grill wings over direct heat, flipping often, until cooked through, about 15 minutes.
Serves 12.
*When each chicken breast was half-way cooked, I made a small slit in the side of the breast. Then I stuffed the hole with a couple of garlic cloves.
Information
Category

Poultry, Main Dishes

Cuisine

North American