Grilled Caesar Salad Recipe
Just Grill It: Caesar Salad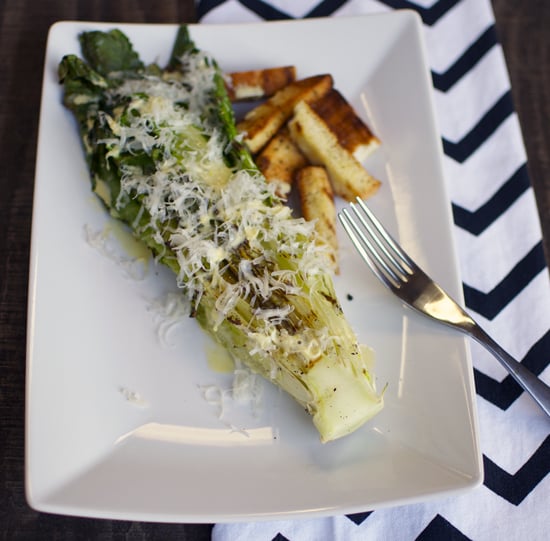 I love that a classic Caesar can be whipped up in a pinch, and now that we've hit grilling season, I experimented a little by charring lettuce leaves directly on the grill. By quickly grilling the romaine lettuce, I imparted a charred flavor that's irresistible with a creamy Caesar salad dressing.
Of course, every Caesar salad needs croutons, so I lightly coated slices of bread in olive oil before grilling them alongside romaine lettuce. I wasn't able to source fresh anchovies but picked up salted whole anchovies, which I rinsed and lightly grilled for a boost of fish flavor.
The result? A salad that makes for a great first course for any barbecue party — or, with grilled chicken, a complete Summer meal. Heat up the barbeque and get to grilling this Summer Caesar salad.
Grilled Caesar Salad
From Lauren Hendrickson, POPSUGAR Food
Notes
If you don't want to make your own dressing, substitute a quality store-bought Caesar dressing to shave off more prep time.
Ingredients
1 clove garlic, smashed
1/2 teaspoon anchovy paste or 2 anchovy fillets
1 egg yolk
1 1/2 teaspoons Dijon mustard
Zest and juice of 1 lemon
1 tablespoon water
1/2 cup extra-virgin olive oil
1/4 cup Parmesan, grated
Salt and pepper, to taste
2 heads of romaine lettuce, cleaned and halved
2 focaccia buns or 1/4 of a french baguette, sliced into 1" strips
4 salted whole anchovies (optional)
Directions
Make the dressing: Combine the garlic, anchovy paste or anchovies, egg yolk, mustard, lemon juice, lemon zest, and water in a blender or mini food processor and process for 30 seconds until the mixture is smooth.
With the food processor running, slowly pour 1/4 cup olive oil to emulsify. Add 1/8 cup grated Parmesan, a pinch of salt, and a couple of grinds of black pepper and give the food processor a quick whirl; set aside and refrigerate if not immediately using.
Grill the lettuce and bread: Heat a grill to medium. Brush the romaine lettuce and bread with the remaining 1/4 cup olive oil. Once the grill is hot, carefully toss the strips of bread on the grill. Flip the strips of breads once they are golden, and while the remaining side grills, place the romaine lettuce cut-side down. Grill each side of the romaine for about 30-60 seconds on each side, or until light grill marks appear. If using whole anchovies, brush with olive oil and lightly grill for about 30-60 seconds on each side; be careful as they are delicate and fall through grates.
Assemble the salad: Place grilled lettuce on a plate and top with a sprinkle of Parmesan and a drizzle of dressing and top with grilled croutons.
Makes 4 appetizer or side salads.
Information
Category

Vegetables, Salads

Cuisine

North American