Grilled Cheddar, Tomato, and Bacon Sandwich Recipe
Fast & Easy Dinner: Grilled Cheddar and Bacon Sandwiches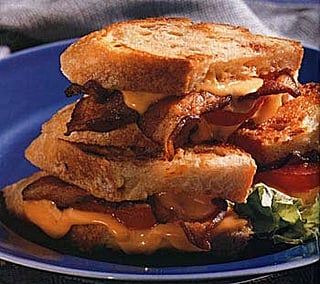 In my humble opinion, the grilled cheese sandwich is a perfect dish. It's comforting, nostalgic, delicious, warm, gooey, and crispy — all at the same time. There's only one ingredient that could take such a flawless sandwich to a whole new level: bacon. This recipe is the ideal midweek pick-me-up. Serve the sandwich with a mixed green salad and glass of white wine. Although the method has you griddle the bacon in a skillet, since the bacon grease is not used, I recommend baking the bacon in the oven.
To serve this crowd-pleasing sandwich to your family, get the recipe and
.
Ingredients
8 thick-cut bacon slices
8 slices country-style sourdough bread or batard (cut on deep diagonal into 5x3x1/2-inch slices)
2 cups (packed) grated extra-sharp cheddar cheese (about 8 ounces)
8 tomato slices, seeds removed, slices drained on paper towels
4 tablespoons mayonnaise
Directions
Cook bacon in heavy large skillet over medium heat until brown and crisp, turning occasionally, about 6 minutes. Transfer bacon to paper towels and drain. Wash and dry skillet.
Place 4 bread slices on work surface. Press 1/4 cup grated cheese onto each slice. Top each with 2 tomato slices. Sprinkle with pepper. Place 2 bacon slices atop each, breaking into pieces if necessary to fit. Press 1/4 cup grated cheese over bacon on each.
Top sandwiches with remaining bread slices, then spread 1/2 tablespoon mayonnaise over top of each sandwich.
Heat 2 heavy large skillets over medium heat. Add 2 sandwiches, mayonnaise side down, to each skillet. Place plate atop both sandwiches to weigh down. Cook sandwiches until bottom is golden brown, about 2 minutes.
Spread top of each sandwich with 1/2 tablespoon mayonnaise. Turn sandwiches over, mayonnaise side down. Top with plates and cook until golden brown on bottom, about 2 minutes. Transfer sandwiches to work surface. Cut sandwiches crosswise in half and serve.
Serves 4.
Information
Category

Main Dishes, Sandwiches

Cuisine

North American