Grilled Chicken Salad Recipe With Herb Sherry Vinaigrette From Michelle Obama
A First Ladylike Grilled Chicken Salad With Herb Vinaigrette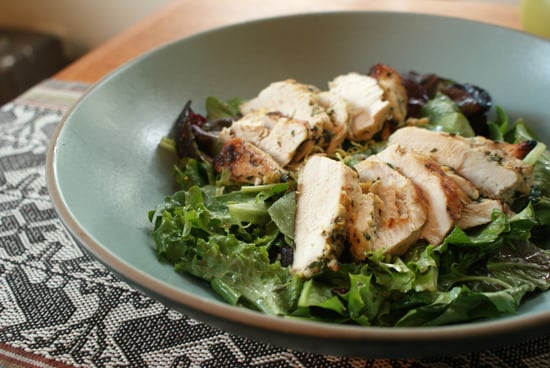 Michelle Obama exudes elegance, so it's no surprise that her recipe for chicken salad with herb vinaigrette is simple and sophisticated too. In honor of the First Lady's first cookbook, American Grown, coming out on May 29, I whipped up this easy and healthy dinner salad.
This salad celebrates Summer greens, herbs, and grilling season, though if you don't have a grill, the chicken is just as delicious if you cook it in a broiler, like I did. The grill-laden marinade and sherry vinaigrette complement each other for a fresh flavor that requires little adornments. To marinate the chicken, just mix up the lemon zest, herbs, and enough olive oil to coat. I only marinated mine for about 20 minutes and that was plenty to create a flavorful, golden browned breast.
I also served the chicken a second night atop a salad with fresh corn and avocado, and it was still a standout. Considering how extraordinary fast and easy this recipe was, I'll definitely be making it again.
Grilled Chicken Salad With Herb Sherry Vinaigrette
Ingredients
2 pounds assorted seasonal garden greens like arugula and baby spinach
6 chicken breasts (6 ounces each)
1 tablespoon thyme
zest from 1 lemon
6 sprigs chives, chopped
For the Vinaigrette
1 cup sherry vinegar
Juice from 2 lemons
1 shallot, finely minced
1 tablespoon fresh oregano, minced
1 tablespoon fresh basil, chopped
2 tablespoons honey
1 cup extra virgin olive oil
Salt and pepper to taste
Directions
Combine sherry vinegar, lemon juice, shallots, oregano, basil, and honey in a bowl. Slowly whisk in olive oil until the mixture is emulsified. Chill.
Wash greens, and set aside.
Marinate chicken with lemon, thyme, chives, and olive oil. Season with salt and pepper and then grill.
Serves 6.
Information
Category

Salads, Main Dishes

Cuisine

North American
Love this recipe? Check out more recipes from Michelle Obama and the White House.