Grilled Eggplant Parmesan Pizza Recipe
Fast & Easy Dinner: Grilled Eggplant Parmesan Pizzas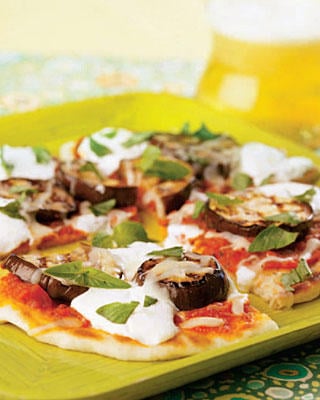 I love recipes that take classic ingredient combinations and reinvent them in new ways. Exhibit A: this effortless recipe for grilled eggplant parmesan pizzas. The traditional Italian-American dish layers lightly fried eggplant slices with marinara sauce and mozzarella cheese. This variation lightens things up while making the meal a little more substantial. The eggplant is cooked on the grill and then the three components are turned into a topping for pizza. Instead of pizza dough that has to be tediously rolled out, the recipe employs pita. which results in a super quick and crisp crust. Get the vegetarian recipe now.


Ingredients
4 baby eggplants (about 5 oz each), cut crosswise in 1⁄2-in.-thick slices
4 pocketless pitas
Olive-oil nonstick spray
1 cup bottled marinara sauce
1 cup part-skim ricotta
1 cup shredded part-skim mozzarella cheese
2 Tbsp grated Parmesan cheese
Garnish: chopped fresh basil leaves
Directions
Heat outdoor grill. Coat eggplant and pitas with nonstick spray. Grill eggplant 10 minutes, turning as needed until tender; remove.
Grill pitas 1 minute until bottoms are lightly charred. Remove to a platter; spread grilled sides with the sauce, then top with eggplant, dollops of ricotta, mozzarella and Parmesan cheese.
Return to grill. Cover and grill 1 to 2 minutes until cheeses melt. Remove; cut each in 4 wedges. Garnish with basil.
Serves 4.
Information
Category

Main Dishes, Pizza

Cuisine

Italian