Grilled Fruit Kebabs
Original Recipe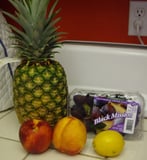 Ingredients
1/2 pineapple, cut into bite-size pieces [6]
2 nectarines, cut into bite-size pieces
5 figs, halved
1 lemon
1/8 cup brown sugar
Canola or vegetable oil for oiling the grill
10 skewers
Directions
Soak skewers for an hour in water, so they don't burn on the grill. In a large bowl mix the brown sugar and juice of the lemon. Stir in cut pineapple and nectarines. Skewer alternating the fruit.
Heat the grill to medium. Using a paper towel or towel lightly grease the grill with oil. Place the the skewers on the grill with the fig's skin on the grill. Flip once and rotate the fig, so the skin side is always on the grill.
If you used pineapple, serve with pineapple top. It's a perfect holder for the leftover skewers.
Makes 10 kebabs.
Information
Category

Fruit, Desserts