Grilled Korean LA Kalbi Short Ribs Recipe
We're Not Ribbing: Korean Kalbi Short Ribs Are No Joke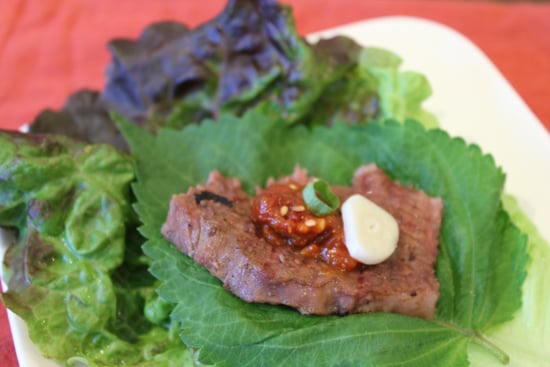 Grilling and barbecue may roost at the pinnacle of American food traditions, but that doesn't mean they aren't popular elsewhere in the world; in fact, most nations claim grilling over open flames as a major cooking style. One of the most popular international grilling trends to hit the US is Korean barbecue, with its succulent marinades and charcoal-charred meats; the most clamored-for meat is undoubtedly kalbi, a beef rib cut with ample marbling for a melt-in-your-mouth experience.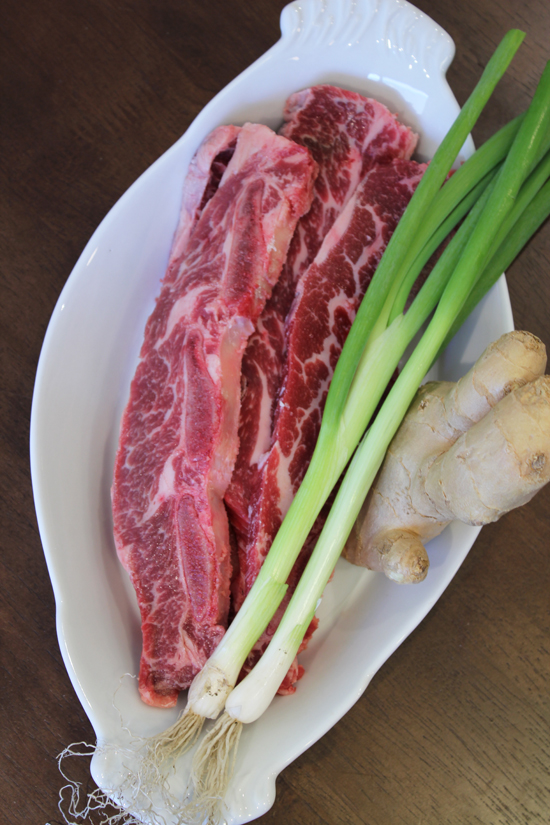 In restaurants, traditional kalbi gui (literally, "grilled rib") is served as a long, thin strip of meat attached to a single two- to five-inch rib bone. But the cut prevalent at most Asian markets is known as "LA kalbi," which is cut in thin strips across the rib bones. LA kalbi is also fun to eat: those little bone nubs are awfully useful as handles! When buying this cut, go for the most marbled pieces you can find, and make sure there are no jagged edges on the bones.
You'll want the meat to be nice and caramelized on the outside and cooked all the way through on the inside. This will make it easier for you to tear the meat from the bone and make little lettuce wraps. To assemble, tear off a green or red lettuce leaf, line with a perilla leaf (if you can find them at your local Asian grocer), add a piece of deboned kalbi, and top with a dollop of Korean spicy bean paste (ssamjang) and a slice of raw garlic. Roll it up and pop it in your mouth for a vibrant burst of flavor. For the kalbi and spicy bean paste recipes, just keep reading.
Grilled Korean Kalbi Short Ribs
From Sara Yoo, YumSugar
Ingredients
3 1/2 to 4 pounds "LA kalbi" (short ribs cut across the bone) or bone-in short ribs
1/2 cup soy sauce
1/2 cup cola
1/4 cup honey
1/2 teaspoon black pepper
1/2 Korean pear or 1 Bosc pear, peeled, cored, and roughly chopped
8 cloves garlic, peeled
1/2 medium onion, roughly chopped
1 tablespoon ginger, peeled and roughly chopped
White rice, lettuce leaves, perilla leaves, hot bean paste (ssamjang), and sliced raw garlic, for garnish (optional)
Directions
Wash the ribs: In a large bowl, soak the ribs in cold water for about 20 minutes. Pour out the water, then wash the ribs in several changes of water, scrubbing off bone fragments and other debris. The ribs are ready when very little blood shows up in the water. Drain, and set aside.
Make the marinade: Combine remaining ingredients (except garnish) in a food processor or blender and purée. Place washed ribs in a deep dish or casserole. Pour the marinade over the meat, and mix it with your hands to combine. Make sure the beef is well coated with the sauce. Refrigerate and marinate overnight for best results but at least one hour.
Light a gas or charcoal grill on medium-high heat. Lay each short rib strip on the grill for about two minutes per side. The outside should be caramelized and charred, and the inside should be cooked all the way through (medium rare meat will be difficult to remove from the bone).
With kitchen shears or a knife, cut each rib strip between the bone segments to get three pieces per rib. Serve with white rice, lettuce leaves, perilla leaves, hot bean paste (ssamjang), and sliced raw garlic.
Serves 8 to 10.
Information
Category

Main Dishes, Beef

Cuisine

Other Asian
Ssamjang
From Sara Yoo, YumSugar
Directions
In a small bowl, mix together all ingredients until well combined. Serve as a dipping sauce for meats and vegetables.
Makes about 4 tablespoons.
Information
Category

Other, Condiments/Sauces

Cuisine

Other Asian