Grilled Lobster Two Ways — Beginner and Expert Fresh lobster with its sweet, succulent meat, is the quintessential Summer dish. Whether you're new to cooking lobster or a seasoned expert, this shellfish is an opulent meal for alfresco entertaining. If you're a beginner, simply grill the store-bought tails for an impressive meal. Ready for something more challenging? The expert meal calls for cooking live lobsters and serving them alongside simple, elegant sauces. To get both recipes,
.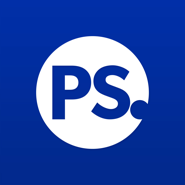 Ingredients
8 (6- to 8-ounce) frozen lobster tails, defrosted
2 plum tomatoes, peeled, seeded, and finely chopped (about 3/4 cup)
1/2 cup plus 2 tablespoons extra virgin olive oil
3 tablespoons lemon juice
1 1/2 teaspoons finely grated lemon zest (zest of 1 lemon)
1 tablespoon minced fresh tarragon leaves
2 teaspoons minced fresh chives
1/2 teaspoon salt
1/4 teaspoon freshly ground white pepper
Directions
Using a sharp knife, cut each lobster tail lengthwise through the shell into 2 pieces. Cover with plastic wrap and refrigerate until ready to grill the lobsters.
Shortly before grilling the lobsters, combine the tomatoes, 8 tablespoons of the olive oil, lemon juice, lemon zest, tarragon, chives, salt, and pepper, and stir to combine.
Preheat a grill to medium-high.
Lightly brush the lobster tails on the cut side with the remaining 2 tablespoons of olive oil, and season lightly with salt and pepper. Place the tails, cut side down, on the grill, cooking for 3 minutes.
Rotate the tails 45 degrees and cook the tails for 3 minutes longer.
Rotate the tails 45 degrees again so that the tails are now cut side-up and cook until lobster is just cooked through, 1 to 3 minutes longer. During these last few minutes, spoon some of the vinaigrette over the cut tail meat so that it drizzles down into the lobster shells.
Serve the lobster tails with more of the vinaigrette drizzled over the meat.
Serves 4 to 8.
Information
Category

Main Dishes, Shellfish

Cuisine

North American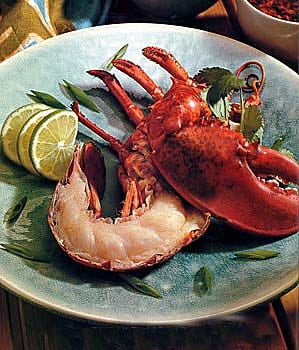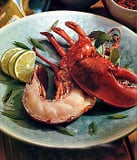 Ingredients
Chipotle Lime Oil
1/2 cup olive oil
6 large garlic cloves, chopped
1 tablespoon fresh lime juice
1 1/2 teaspoons minced canned chipotle chilies (adobo)
1 teaspoon grated lime peel
3/4 teaspoon salt
2 tablespoons chopped fresh cilantro
Green Ginger Onion Butter
2 tablespoons peanut oil
2 teaspoons minced peeled fresh ginger, packed
1/4 cup Chinese rice wine or sake
1/3 cup finely chopped green onions
3 tablespoons butter, room temperature
Lobsters
2 1 1/2- to 2-pound live lobsters
Olive oil
Directions
For Chipotle Lime Oil: Cook oil and garlic in heavy small sauce-pan over medium-low heat until garlic begins to brown, about 8 minutes. Carefully mix in next 4 ingredients. Stir until salt dissolves. Remove from heat. Mix in cilantro. Cover and refrigerate. Makes 2/3 cup chipotle lime oil; can be prepared up to 2 hours ahead.
For Ginger Green Onion Butter:Cook peanut oil and ginger in small saucepan over medium-low heat 2 minutes. Carefully add wine; simmer until reduced by half. Remove from heat. Add green onions and butter. Season with salt and pepper. Cover and refrigerate. Makes about 1/2 cup. Can be made 2 hours ahead.
For lobster: Drop 1 lobster, head first, into large pot of boiling water. Cover; cook 3 minutes (lobster will not be fully cooked).
Using tongs, transfer lobster to baking sheet.
Return water to boil.
Repeat with second lobster.
Transfer 1 lobster, shell side down, to work surface. Place tip of large knife into center of lobster. Cut lobster lengthwise in half from center to end of head (knife may not cut through shell), then cut in half from center to end of tail. Use poultry shears to cut through shell. Repeat with second lobster.
Prepare barbecue (medium-high heat).
Keeping lobster halves meat side up, brush shells with olive oil. Place halves, meat side up, on barbecue.
Brush meat with olive oil; sprinkle with salt and pepper. Place pans with sauces at edge of barbecue to rewarm.
Cover barbecue; grill lobsters until just opaque in thickest portion of tail, 7 to 9 minutes.
Serve, passing warm sauces separately.
Makes 2 servings.
Information
Category

Main Dishes, Shellfish

Cuisine

North American