Grilled Nectarines With Frozen Yogurt
Caramelize Nectarines on the Grill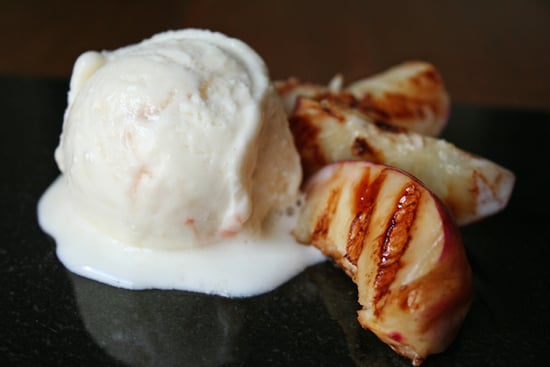 There's something so quintessentially Summer about biting into a soft, ripe nectarine, slurping up the sweet, syrupy juice before it seeps down your arm. You know how sugar is good, but caramel is better? Well, the same goes for grilling nectarines. Due to their high sugar content, nectarines caramelize beautifully on a grill. This heavenly dessert only needs two ingredients: nectarines and fluffy honey frozen yogurt.
Learn how to grill nectarines.
Grilled Nectarines
From Anna Monette Roberts, YumSugar
Ingredients
2 nectarines, each cut into 6 slices
1 pint Greek-style frozen yogurt
Directions
Heat grill to medium. Place nectarine slices in direct heat over the grill, allowing them to sear, about 5 minutes. Flip, and continue to grill 5 more minutes. Remove from heat, and allow to cool slightly.
To serve, scoop ice cream into bowls. Divide nectarine slices, placing 3 pieces on top of ice cream scoop.
Serves 4.
Information
Category

Fruit, Desserts

Cuisine

North American