Grilled Cherry Pizza With Nutella and Bourbon-Infused Cherries
From Michael Symon, Knob Creek [2]
Notes
Editor's notes: If you cannot find sour cherries, substitute with Bing, Rainier, or whatever fresh cherry varietal is available at your local grocer.
Make a cocktail out of the reserved cherry juice liquid and cherries. Muddle a few cherries in a glass, and fill with ice and the reserved cherry juice liquid. Refrigerate the remaining cherries, and use as an ice cream topping!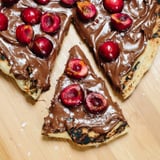 Ingredients
1 cup fresh sour cherries, pitted and cut in half
1/4 cup bourbon, like Knob Creek Smoked Maple Bourbon [3]
3 tablespoons granulated sugar
1/2 orange, zested
Pizza dough [4] for 1 pizza
1/4 cup plus 2 tablespoons Nutella
Flaky sea salt
Directions
In a mixing bowl, combine cherries, bourbon, sugar, and orange zest, and mix. Once mixed, let sit for 1 hour or until the cherries soften and the liquid around them is stained red. If needed, this can be done the night before and kept refrigerated.
While the cherries are softening, shape your pizza dough and preheat your grill to medium-high heat. To shape the pizza dough, flatten it with your hands on a slightly floured surface. Either use your fingers to stretch the dough out, or hold up the edges of the dough with your fingers, letting the dough hang and stretch, while working around the edges of the dough. Once you've stretched the dough, let it sit for 5 minutes and then push out the edges with your fingers again, until you have a nice round shape, about 12 inches in diameter.
Once the grill is hot, place pizza dough round on a lightly floured rimless cookie sheet. Let the dough slide off the cookie sheet onto the hot grill grates. Close the lid of the grill, and let cook for 2-3 minutes. After 2 minutes, open the grill and check underneath the dough to see if it is getting browned. If it has some nice grill marks, use a spatula or tongs to flip the dough to cook the other side. If it is not beginning to brown, cover the grill and continue to cook a minute at a time until the bottom has begun to brown. The top of the pizza dough should start bubbling up with air pockets. After the dough has cooked for a minute or 2 on the other side, remove it to a tray and prepare to top it.
While the dough is still warm, spread Nutella over the top, leaving a 1-inch border around the edge. Drain the cherries, reserving the liquid, and sprinkle half of them evenly over the top of the pizza. Sprinkle the pizza with a little bit of flaky sea salt. Slice and serve.
Information
Category

Desserts, Chocolate

Yield

1 12-inch pizza

Cook Time

1 hour and 30 minutes