Grilled Peach Salad With Grapefruit Vinaigrette Recipe
Sizzle Peaches on the Grill For This Salad With Grapefruit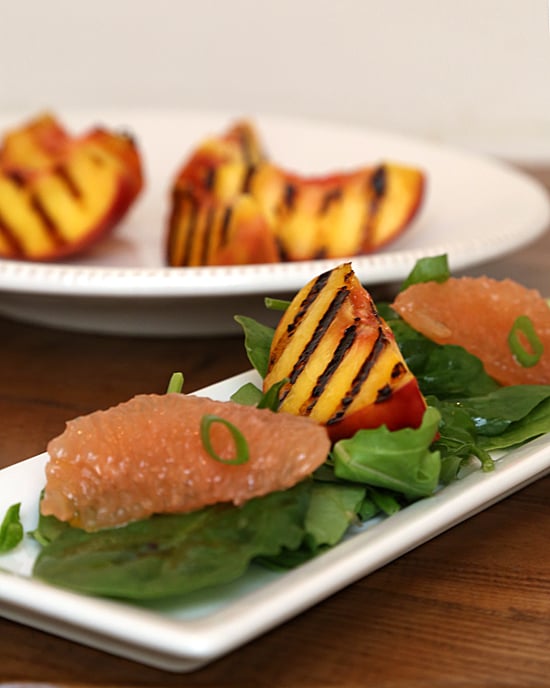 The grill does wonders with burgers, but it can be used for salads, too. This grilled peach version features grapefruit segments and a tangy grapefruit dressing that helps balance the sweetness from the stone fruit.
The key to perfect grill marks is by using peaches that are underripe, as well as resisting the temptation to flip the peaches too early. An easy way to test this is by attempting to lift the peach: if it's suctioned to the grill, it's not ready. Don't force it; when a char mark forms, the peach will almost effortlessly come off the grill.
To try the recipe, keep reading.
Grilled Peach Salad With Grapefruit Vinaigrette
From Danny Boome
Notes
When supreming grapefruit with a paring knife, do so over a small bowl to capture any juice. Once you have removed all the grapefruit sections, squeeze the grapefruit pith to extract any leftover juice into the bowl.
Ingredients
2 large, underripe peaches, pitted and sliced into 6 wedges
3 tablespoons grapeseed oil or olive oil, plus more for brushing
1 grapefruit, supremed, juice reserved and kept in a separate bowl
1 tablespoon honey
Salt and freshly ground black pepper, to taste
4 cups arugula
3 scallions, finely sliced
Directions
Preheat grill to medium. Brush peach wedges with oil. Grill for 5 minutes until slightly soft and char marks form on each side of the flesh. Remove from grill and allow to cool slightly.
In the bowl with reserved grapefruit juice, whisk together juice, honey, and oil. Season with salt and pepper to taste.
In a separate large salad bowl, toss arugula, segmented grapefruit, grilled peaches, sliced scallions, and vinaigrette. Toss well to combine and serve.
Information
Category

Greens , Salads

Cuisine

North American

Yield

Serves 4.