Grilled Peaches With Mascarpone Cheese Recipe
Come Party With Me: Father's Day — Dessert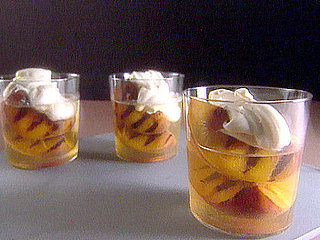 My dad is eating healthier, so to help him out, this Father's Day, I won't make a decadent dessert. Instead, I'll be whipping up a flavorful and fruity treat that's enhanced by the grill. When you toss fresh stone fruit on the barbecue, the natural sugars are released and it becomes warm, caramelized, and rich. This recipe takes grilled peaches to a whole new level by tossing them with a brandy syrup.
Then, they're plated in pools of white wine. A dollop of vanilla-laced mascarpone cheese finishes off the delicious dessert. Want to check out the recipe? Here it is.
Ingredients
Olive oil
3 firm but ripe peaches, pitted, quartered
2 tablespoons sugar
2 tablespoons brandy
1 tablespoon fresh lemon juice
1/2 cup mascarpone cheese, room temperature
1/4 teaspoon vanilla extract
3/4 cup dry white wine
Directions
Place a grill pan over medium-high heat or prepare the barbecue (medium-high heat). Lightly brush the grill pan or rack with oil. Place the peaches on the grill pan and do not move the peaches, otherwise you will not have those great grill marks. It takes about 2 to 3 minutes per side to get those grill marks. Grill the peaches until the grill marks are formed, slightly softened and heated through, about 5 to 6 minutes total.
Meanwhile, stir the sugar, brandy, and lemon juice in a medium bowl to blend. Set the brandy mixture aside.
As the peaches are ready, remove them from the grill and place them in a shallow baking dish. Top them with the brandy mixture, and toss to coat. Set aside for 15 minutes and allow to marinate, tossing occasionally.
Meanwhile, stir the mascarpone and vanilla in a small bowl to blend.
Divide the grilled peach mixture equally among 6 coupe dishes. Pour the wine over the peaches. Dollop the mascarpone mixture atop the peaches, and serve.
Serves 6.
Information
Category

Fruit, Desserts

Cuisine

North American