Grilled Pickled Jalapeños
Grilled Pickled Jalapeños That Rival Restaurant-Quality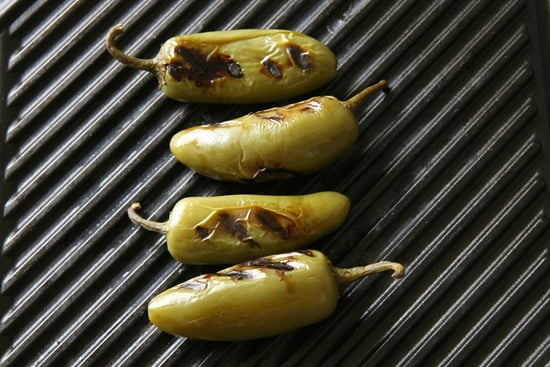 Don Pisto's, a Mexican restaurant in San Francisco, gave me the idea of grilling pickled jalapeños. The small, smoky restaurant makes loads of these charred jalapeños each day to garnish each and every dish. As the jalapeños sizzle on the grill, they give off a whiff of spicy oils, which have a tendency to float in the air and give restaurant guests a little throat tickle.
I had a similar throat-clearing incident when trying this at home. While these jalapeños can be grilled on an indoor grill pan, it is advised to take the heat outside. Otherwise you might find yourself in an uncomfortable position of coughing incessantly while simultaneously fanning a beeping smoke alarm! However, the result is worth the effort. Learn how to make grilled pickled jalapeños.
Start with a jar of homemade pickled jalapeños or a store-bought version. Simply cook the pickled jalapeños directly on a high-heat grill for five minutes on each side, or more depending on how charred you like your peppers. Let them cool to room temperature and serve them whole or diced alongside a Mexican spread of dishes. Brave souls who are spicy fanatics will find these to be so good that they might eat the whole jalapeño pepper plain!