Grilled Romaine Salad Recipe
Grill This: Romaine Salad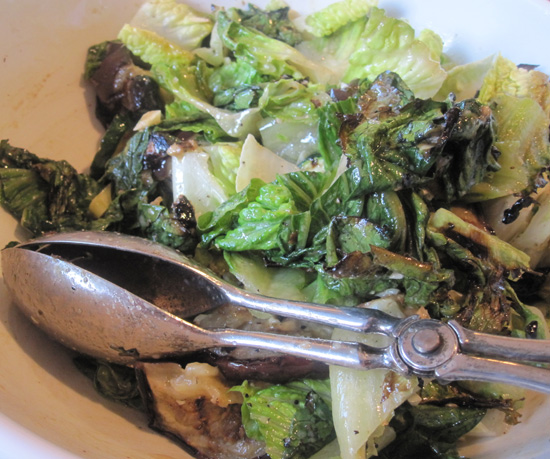 Although I've seen recipes where a leafy head of romaine is placed on the grill, I had never tried the technique until last weekend. I'm not sure why I was turned off by the thought of grilled romaine, but let me assure you I'm a grilled-lettuce convert now that I've eaten it.
This salad is amazing! The grill chars some of the leaves until crisp while others are in different stages of wilt. Let the romaine cool a little before tossing it with the other ingredients. I used grilled eggplant and zucchini, but any veggies would be delicious.
You could also toss the greens with grilled fruit, salty cheese, cooked protein, crunchy croutons — really the possibilities are endless. For extra-smoky flavor, grill the lemon before making the vinaigrette. Read on, for the recipe.
Grilled Romaine Salad
From Sonia Meyer
Ingredients
1 large eggplant
2 small zucchini
1 large head of romaine lettuce
1/4 cup olive oil
2 teaspoons kosher salt
2 teaspoons freshly-cracked black pepper
1 teaspoon red chili flake (optional)
Dijon Vinaigrette: place the lemon on the grill and cook until brown, about 5 minutes before juicing to make the vinaigrette
Directions
Thoroughly wash all the vegetables and pat dry. Slice the eggplant into 1/2-inch thick rounds. Slice the zucchini into 1/4-inch rounds, and place on a baking sheet.
Slice the romaine lettuce in half lengthwise and place on a separate baking sheet.
Drizzle all the vegetables with olive oil, about 1/4 a cup total, and generously sprinkle with salt and pepper, and chili flakes, if you feel like some heat.
First grill the eggplant and zucchini until brown and soft, about 5-7 minutes on each side over medium heat. Note that the zucchini may cook quicker than the eggplant.
Remove from the grill and place them back on the baking sheet to cool.
Put the romaine lettuce cut side up and roast for 5 minutes on each side until grill marks appear and the leaves just start to wilt. Remove from the grill and place back on baking sheet to cool.
While the vegetables cool, make the Dijon Vinaigrette, but use the grilled lemon to make the lemon juice.
Cut the vegetables into 1/2-inch pieces and place into a large bowl. Pour the vinaigrette over the veggies right before serving. Toss to combine and enjoy with your favorite grilled entree.
Serves 4-6.
Information
Category

Vegetables, Salads

Cuisine

North American