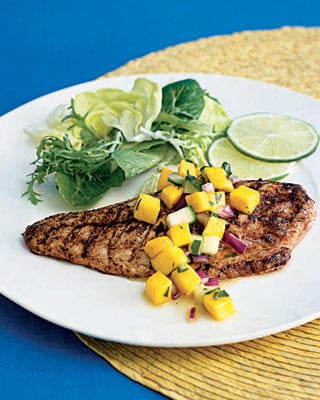 When I was a child, my dad used a great technique to introduce my siblings and me to fish. He selected a mild tasting white fish and served it with a sweet fruit salsa. This is a much healthier option than fish sticks and it actually was a meal that I looked forward to and enjoyed.
As I came across this recipe for grilled snapper with mango salsa, I instantly had memories of Dad's fish with fruit salsa. Since snapper isn't the most sustainable of fishes, I'll probably sub in something similar like rock fish. To take a look at the simple and delicious recipe,
.


Ingredients
1 1/2 cups diced mango
3/4 cup diced peeled, halved and seeded cucumber
1/2 cup diced red onion
2 tsp minced, seeded serrano chile pepper
2 tsp grated lime zest
3 Tbsp lime juice
1/2 cup cilantro, coarsely chopped
1/4 tsp salt
1/4 tsp cinnamon
1/4 tsp salt
4 red snapper fillets (6 oz each)
2 Tbsp olive oil
Directions
Make salsa: Mix ingredients gently but thoroughly. Refrigerate at least 20 minutes for flavors to blend.
Heat outdoor grill or stovetop grill pan. Mix ancho chile powder, cinnamon and salt in a cup until blended.
Place fish, skin side down, on a baking sheet. Brush top with 1/2 the oil; sprinkle with 1/2 the spice mixture.
Place fish on grill skin side up; brush with remaining oil; sprinkle with rest of spices.
Grill 4 minutes, turn over with a broad spatula and grill 3 to 4 minutes until just barely opaque in center. Serve with the salsa.
Serves 4.
Information
Category

Main Dishes, Fish

Cuisine

Central American