Grilled Sweet-and-Spicy Shrimp With Mint Dipping Sauce Recipe
Sugar and Spice Are Everything Nice on Shrimp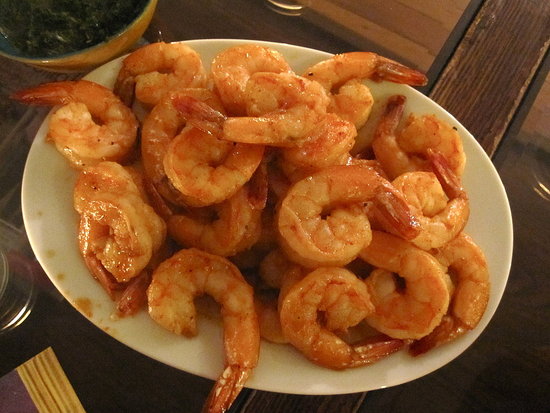 I'm a sucker for a scrumptious shrimp appetizer, and when I made this recipe for spicy, sweet shrimp with a mint dipping sauce, I almost ate the entire plateful. The marinade is a simple and easy mixture of brown sugar, lemon juice, oil, and cayenne pepper. The sugar balances out the cayenne and the resulting shrimp has just the right amount of heat. I enjoyed the shrimp alone and didn't think the mint dipping sauce was totally necessary. Still, it makes for a fun presentation. Although the recipe says to grill the shrimp, I broiled them. I imagine the smoky flavor from a grill will make the shrimp taste even better! Want to see how they are made? Here's the recipe.
Grilled Sweet-and-Spicy Shrimp With Mint Dipping Sauce
From Bon Appétit
Ingredients
1/4 cup (packed) golden brown sugar
3 1/2 tablespoons fresh lemon juice
2 tablespoons plus 1/2 cup vegetable oil
2 teaspoons grated lemon peel
2 teaspoons cayenne pepper
1/2 teaspoon salt
2 pounds large uncooked shrimp, peeled, deveined
2 cups (packed) fresh mint leaves
Metal skewers
Directions
Mix brown sugar, 2 tablespoons lemon juice, 2 tablespoons oil, lemon peel, cayenne pepper, and salt in medium bowl to blend. Add shrimp and stir to coat. Let marinate 30 minutes or up to 1 hour.
Meanwhile, place mint, remaining 1 1/2 tablespoons lemon juice, and remaining 1/2 cup oil in processor. Blend until mint is finely chopped and mixture is smooth, scraping down sides occasionally. Season mint dipping sauce with salt.
Prepare barbecue (medium-high heat). Thread shrimp onto skewers. Grill shrimp until just cooked through, about 2 minutes per side. Serve with mint dipping sauce.
Makes 12 first-course or 6 main-course servings.
Information
Category

Seafood, Appetizers

Cuisine

North American