Grilled Vegetarian Tacos With Barbecued Guacamole
Fast & Easy Dinner: Veggie Tacos With Grilled Guacamole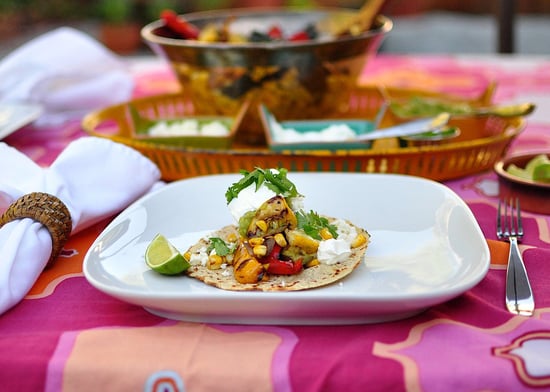 If you're still recovering from a holiday weekend of gluttony, try a little variety on your barbecue by turning to the season's vegetable bounty for a light meatless meal of veggie tacos with grilled guacamole. This recipe, which is packed with fresh produce, calls for bell peppers, zucchini, squash, corn, and eggplant, but feel free to use your favorites, or anything that's on hand at the moment.
Grilling the ingredients for the guacamole creates more complexity, but note that the avocado spread should be cooled before serving, so plan accordingly. If you are short on time, make a more traditional version, or pick up some guacamole from the store.
These flavorful tacos are surprisingly filling; they're guaranteed to satisfy both your vegetarian and meat-loving friends. Keep reading for this colorful and delicious recipe.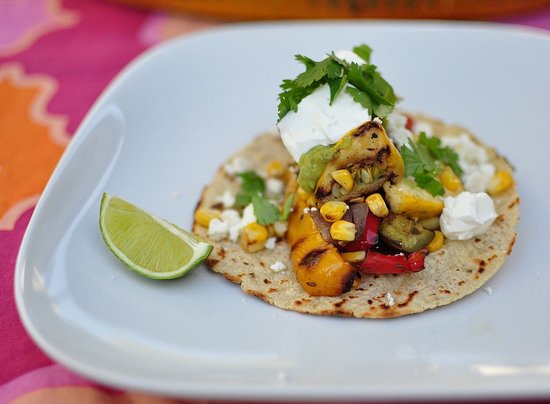 BBQ Veggie Tacos With Grilled Guacamole
From Lauren Hendrickson, YumSugar
Ingredients
For grilled guacamole:
2 cloves of garlic
1 tablespoon olive oil, plus more for drizzling
1 large avocado, cut in half and pitted
2 scallions
1 jalapeño
1 lime
Salt and pepper to taste
For tacos:
1 red onion, cut into 1-inch chunks
2 ears of corn, husked and cleaned
2 bell peppers, cut into 1/4-inch strips
2 zucchini squash, cut lengthwise into 1/4-inch strips
2 pattypan squash, cut into 1/2-inch slices
1 Japanese eggplant, cut into 1/4-inch strips
4 tablespoons olive oil
1 teaspoon whole cumin seed
1/2 teaspoon whole coriander seed
Salt and pepper, to taste
To serve:
8 corn tortillas
1/2 cup Mexican queso fresco cheese, crumbled (optional)
1/4 cup cilantro, finely chopped (optional)
1/4 cup sour cream or crema (optional)
1 lime, sliced into wedges (optional)
Directions
Preheat the barbecue to medium-high.
For the guacamole, wrap the garlic cloves in tin foil with a drizzle of olive oil on top. In a small bowl, coat the avocado, scallions, and jalapeño in the remaining olive oil. Set aside.
For the taco filling, place the red onion, corn, bell peppers, zucchini, squash, and eggplant in a large bowl. Using a mortar and pestle, grind the cumin and coriander until fine. Add 4 tablespoons of olive oil and stir gently to combine with the spices. Pour the olive oil and spice mixture over the vegetables and gently toss until all vegetables are evenly coated.
Begin by grilling the onions, corn, and avocado halves flesh side down, jalapeño, scallions, and tin-foil wrapped garlic.
Grill avocado halves and scallions for about 3-5 minutes, remove, and set aside. Grill the jalapeño until browned about 6-8 minutes, remove from the grill. Continue to grill the garlic, occasionally checking it, until the garlic is golden and soft. Set aside the avocado, scallions, jalapeño, and garlic cloves. When they are cool enough to handle, remove and discard the stems from the scallions and jalapeño.
Continue to rotate the corn until browned on all sides. Add squash, bell peppers, and eggplant to the grill for 3 to 5 minutes, flipping once or twice until cooked.
While the vegetables grill, prepare the guacamole. Using a mini food processor, add the avocado flesh, scallions, jalapeno (with or without the seeds depending on taste), garlic, juice of one lime, and salt to taste. Puree until smooth and creamy, set aside in the refrigerator to cool.
Remove all grilled vegetables from the barbecue. In a large bowl, combine the bell peppers, eggplant, zucchini, and squash. Slice the corn cobs in half and using a serrated blade, remove the corn from the cob. Rough chop the grilled onions. Stir the corn and onions into the vegetable mixture. Season with salt and pepper.
Cook the tortillas on the grill for 1 to 2 minutes per side. Serve the tacos with the guacamole, queso fresco, cilantro, sour cream, and lime wedges.
Makes 8 tacos, or enough to serve 4 people.
Information
Category

Main Dishes

Cuisine

Mexican