Grilled Watermelon Salad Recipe
Get to Grilling With Watermelon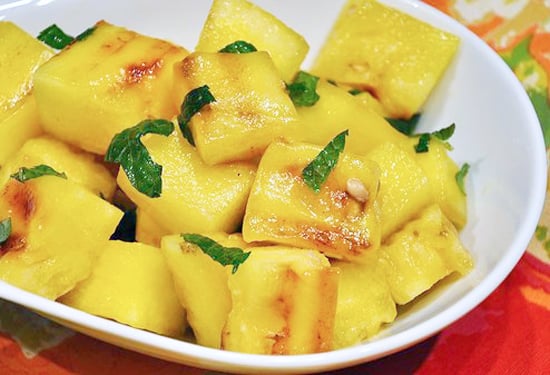 Every once in a while, I come across a recipe and wonder, why didn't I think of this?! Since most fruit tastes delicious on a Summer night with a couple of grill marks, watermelon, naturally, would be the same way. This light and refreshing grilled watermelon salad is an essential to the season.
Prep is easy and only requires a little olive oil brushed on the watermelon to ensure it doesn't stick to the grill. Don't forget to let the melon cool before chopping it up for the salad. The dressing, a mixture of orange juice, lemon juice, and olive oil, adds a touch of tang and a hint of sweetness to the dish. You could also barbecue a few other fruits, like pineapple or peaches, and make a grilled fruit salad. Keep reading for the simple recipe.
Ingredients
1 small red or yellow watermelon (3 to 4 pounds), preferably seedless and not too ripe
1/4 cup extra-virgin olive oil, plus extra for brushing the melon
3 tablespoons fresh lime juice (about 2 limes) or 1 large lemon
Juice of 1 large navel orange
Pinch of sea or kosher salt, or more to taste
Pinch of cayenne pepper, or more to taste
1/4 cup chopped fresh mint
1/2 cup crumbled feta cheese (optional)
Directions
Preheat a gas grill or build a charcoal fire for direct grilling. Cut the watermelon in half lengthwise, then cut each half in half. Cut these quarters into 2-inch-thick slices. Brush the slices lightly with olive oil and set aside until ready to grill.
Combine lime and orange juices. Taste; if it is too tart, add more orange juice. It should taste like a "sour" orange. Add the salt and cayenne and whisk continually while adding the oil in a thin stream. Whisk until thickened (emulsified). Taste and adjust the oil and salt to your liking. Add the mint and set aside.
Just before serving, place the oiled watermelon slices on a very clean cooking grate directly over the heat source. Grill until marked and just warmed through but still crunchy, 2 to 3 minutes per side. Let cool.
Cut off the rinds and discard. Cut the watermelon into chunks and place in a serving bowl. Pour the dressing over the top and toss gently. Top with the feta, if desired, and sprinkle with another pinch of cayenne.
Serves 4.
Information
Category

Salads, Fruit

Cuisine

North American