Grilling For Beginners
How to Tell When Food's Done on the Grill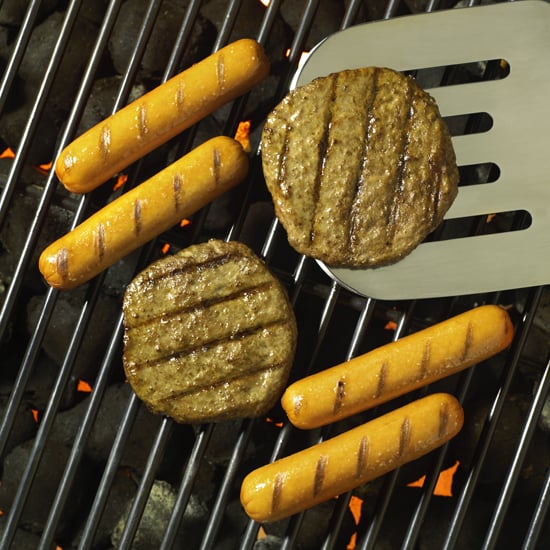 Are you a newbie to grilling this Summer? If so, have no fear — know that it's all about timing. But know this: standing in front of a hot grill absentmindedly flipping and shifting the grill's contents around not only makes time move at a snail's pace, but it's also the worst thing a griller can do.
Master the grill by keeping a kitchen timer next to your station for more accurate cooking time, and to achieve perfect grill marks, resist the urge to move the meat and veggies around as you wait. From proper prep to exact timing, here are some beginners tips to telling when food is done on the grill. Everything is in order of longest to shortest cook time, so you can organize your grill efficiently.
Corn: Corn involves a two-step process, and the first step is steaming the corn in the husk. Keep the corn in the husk, and roast on the grill until the husks are completely blacked, about 15-20 minutes. The second step is roasting the exposed corn kernels. Rotate shucked corn every few minutes until the tips of the kernels turn light brown and kernels begins to pop, about 10 minutes.

Portobello mushrooms: Grill caps, stem side down, until portobellos appear wilted, about eight minutes. Flip once, and grill until condensation appears on the ribs of the mushrooms and grill marks form on the top of the mushroom cap, about six minutes.
Learn the secrets to perfect hamburgers and hot dogs.
Burgers: Grill burgers on high heat grill without touching or moving them for five or six minutes. When juices begin to rise to the top of your burgers, flip them over once. Do not flatten burgers to cook faster — that only squeezes out all the flavorful juices. Grill until burgers appear blackened and brown on the outside, about three or four more minutes. (For cheeseburgers, place cheese on top in the last two minutes of cooking, and close the lid to ensure cheese melts.) Let burgers sit for five minutes while buns are toasting on the grill so the burgers set and soak up the inner juices. Otherwise, the juices will messily run out if served immediately.

Hot dogs: Since hot dogs are already cooked, grilling them just heats them through and creates the beautiful grill marks. Cook until the skin begins to glisten, about two minutes, then turn hot dog once, and grill on other side for two minutes. If your hot dogs begin blistering and cracking, they're verging on overcooked.
What other grilled foods do you need help cooking? Let us know in the comments below, and we'll add them to the post!