Grilling Recipes Great for Father's Day
Come Party With Me: Father's Day — Menu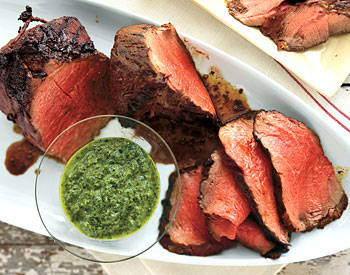 Father's Day is this Sunday, and I plan to celebrate with my dad by cooking a meal that's entirely grilled! It's full of my dad's favorite foods. We'll start with raw oysters and grilled cheddar toasts with red onions and peppers. For the main course, we'll move onto a huge chunk of grilled meat — specifically a whole beef tenderloin that's sliced and served with an herby chimichurri sauce.
On the side, I'll offer classic corn on the cob and a grilled tomato and broccoli rabe salad with breadcrumbs. If you think your father will enjoy these dishes, get the recipes now.
Grilled Cheddar Toasts With Red Onions and Peppers
From Food & Wine
Ingredients
2 large red bell peppers, halved, cored and seeded
2 large red onions, sliced crosswise 1/3 inch thick
1 tablespoon extra-virgin olive oil, plus more for brushing
Eight 1/2-inch-thick slices peasant bread
1/2 cup mayonnaise
3 tablespoons prepared pesto sauce
1 1/2 teaspoons red wine vinegar
Kosher salt and freshly ground pepper
1/2 pound sliced sharp Cheddar cheese
Directions
Light a charcoal grill or preheat a gas grill. Brush the peppers and onions with olive oil and grill over high heat until softened and charred in spots, 8 to 9 minutes. Transfer the peppers to a bowl, cover with plastic wrap and let cool. Peel the peppers and cut into thin strips.
Lightly brush the bread on both sides with olive oil and grill until toasted, 2 to 3 minutes. Transfer to a wire rack.
In a small bowl, mix the mayonnaise with the pesto sauce and spread it on the bread. Preheat the broiler.
In a bowl, mix the tablespoon of olive oil with the vinegar. Add the onions and peppers, season with salt and pepper and toss to coat.
Mound the peppers and onions on the toast. Cover with the cheese and broil for 1 to 2 minutes, turning the rack, until melted. Serve.
Serves 4.
Information
Category

Appetizers, Crostini

Cuisine

Italian