The following post was written by Craig Chapman who blogs at Real Food Real Kitchens and is part of POPSUGAR Select Food.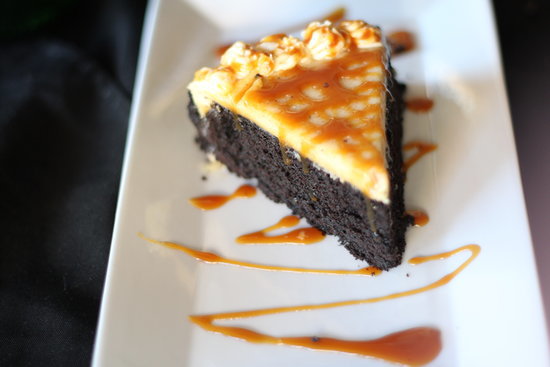 Feeling like you need a little "luck of the Irish" this St. Patrick's day? Well this recipe for a dense, Guinness chocolate cake, topped with a Baileys Irish Cream buttercream frosting, drizzled with a Jameson caramel sauce will score you a little luck from anyone you bestow a slice upon. After the buzz they'll catch eating this boozy morsel you'll undoubtedly have some new best friends as well.
What good is such an incredible recipe without a "white lie" tale to back it up? The story goes like this . . . A jolly Irishman visits Lebanon in March, around St. Patricks day, and he is really missing home. While visiting the mountain villages he meets an old lady who sees he is homesick and tries to make him a few dishes so he feels welcome. There is a slight language barrier, but they work it out, for the most part, and he tells her Ireland is known for its cabbage, lamb, and potato dishes. So she makes her version of stuffed cabbage with mint lamb and a mint yogurt sauce. She also makes spicy lamb stuffed potato balls. She wanted to end the celebration with a dessert so she asks him what he would normally have for dessert. The question got lost in translation and he thought she was asking what they drink in Ireland. He states Guinness, Baileys Irish Cream, and Jameson whiskey are traditional Irish beverages. So she thought long and hard and came up with a Guinness chocolate cake, topped with a Baileys Irish Cream buttercream frosting, and drizzled with a Jameson caramel sauce.
Guinness Chocolate Cake
From Toni M. Elkhouri, Cedar's Cafe, Melbourne, FL.
Ingredients:
For the cake:
2 cups all-purpose flour
1 1/2 cups packed brown sugar
1 cup granulated sugar
1 cup cocoa powder
1 teaspoon baking soda
1/2 teaspoon salt
1 cup Guinness Stout
1/2 cup strong coffee
1/2 cup canola oil
2 tablespoons white or apple cider vinegar
1 tablespoon pure vanilla extract
For the frosting:
4 sticks butter, at room temperature
8 cups powdered sugar, sifted
1/4 cup plus 2 tablespoons Bailey's Irish Cream
For the caramel sauce:
1 cup granulated sugar
1/3 cup Jameson whiskey
3 tablespoons unsalted butter, softened
Pinch of salt
Directions:
Make the cake: Preheat the oven to 350°F. Grease cake pan.
In a large bowl, whisk together flour, brown sugar, sugar, cocoa, baking soda, and salt.
In a separate bowl, whisk together Guinness, coffee, oil, vinegar, and vanilla.
Pour the wet mixture into the dry mixture and whisk until just combined. Do not over mix.
Fill the pan with batter. Bake for 20 to 25 minutes, or until a toothpick inserted in the center of the cake comes out with a few crumbs clinging to it. Cool the cake completely before frosting.
Make the frosting: In a stand mixer or bowl with hand mixer, beat butter until light and fluffy. Add powdered sugar and Baileys Irish Cream. Beat until fluffy. This will take a few minutes. Frost the cake with an offset spatula. Pipe a border of frosting around the edge if desired.
Make the caramel sauce: Cook sugar in a heavy-bottomed saucepan over moderate heat, undisturbed, until it begins to melt. Continue to cook, stirring occasionally with a fork, until sugar is melted into a deep golden caramel. Remove from heat and carefully add Jameson, butter, and salt (caramel will steam vigorously and harden, this is normal). Cook over moderately low heat, stirring, until caramel is re-dissolved (or not hard anymore). Drizzle over the cake.
Yield: Serves 6-8