 Every once in a while it's nice to have a little indulgence in life. This weekend, I made a decadent chocolate-stout cake to celebrate the start of the new year. The addition of Guinness creates an incredibly moist cake with a delicious, bittersweet aftertaste. For chocoholics, the cake is absolutely heavenly!
To balance the dense richness, I served each slice with a dollop of vanilla ice cream. Whipped cream would also be lovely on the side. The original recipe calls for three, 8-inch cake pans, but I own 9-inch pans, so I halved the recipe and made a two-layer cake. To satisfy your chocolate craving,
.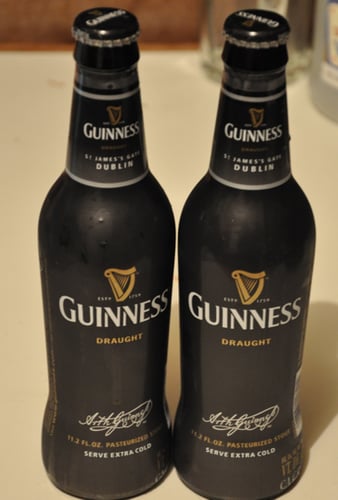 Ingredients
Cake
1 cup stout (such as Guinness)
1 cup (2 sticks) unsalted butter
3/4 cup unsweetened cocoa powder (preferably Dutch-process)
2 cups all purpose flour
2 cups sugar
1 1/2 teaspoon baking soda
3/4 teaspoon salt
2 large eggs
1/2 cup plus 3 tablespoons sour cream
Icing
1 cup whipping cream
1/2 pound bittersweet (not unsweetened) or semisweet chocolate, chopped
Directions
For cake: Preheat oven to 350°F. Butter two 9-inch round cake pans. Line with parchment paper. Butter paper.
Bring the stout and butter to simmer in heavy large saucepan over medium heat.
Add cocoa powder to the stout and butter mixture. Whisk until mixture is smooth. Cool slightly.
Whisk flour, sugar, baking soda, and 1 1/2 teaspoons salt in large bowl to blend.
Using electric mixer, beat eggs and sour cream in another large bowl to blend. Add stout-chocolate mixture to egg mixture and beat just to combine.
Slowly Add flour mixture to the chocolate and egg mixture. Beat briefly on slow speed. Using rubber spatula, fold batter until completely combined. Divide batter equally among prepared pans. Bake cakes until tester inserted into center of cakes comes out clean, about 35 minutes.
Transfer cakes to rack; cool 10 minutes. Turn cakes out onto rack and cool completely.
For icing: Bring cream to simmer in heavy medium saucepan. Remove from heat. Add chopped chocolate and whisk until melted and smooth. Refrigerate until icing is spreadable, stirring frequently, about 2 hours.
Place 1 cake layer on plate. Spread icing over. Top with second cake layer. Spread remaining icing over top and sides of cake. Cut and enjoy.
Serves 12.
Information
Category

Desserts, Cake