Are you ready for what I'm about to declare, people? Guy Fieri is a killer chef. Yes, the man combines outrageous flavors, and he piles on the adjectives as high as the food on each plate. Everything about Guy is loud and might be perceived as stereotypically American and a target for scoffing. I can't speak for his restaurants, but I have experienced food prepared under Guy's direction on two separate occasions (New York City Wine & Food Festival [1] and Pebble Beach Food & Wine [2]), and both blew me away. Haters are going to hate, but the guy can translate bold flavors into plate-licking-good dishes. Need more convincing? OK, here we go!
Photo: Anna Monette Roberts
Bacon Mac N Cheese Burger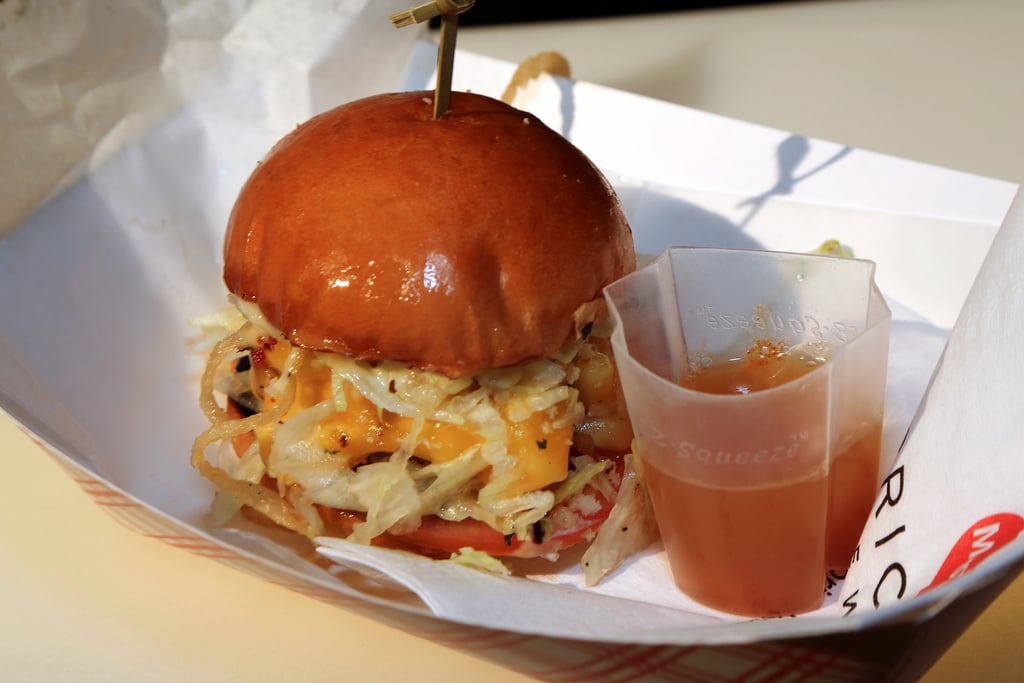 The first time Guy won me over was last Fall at the NYCWFF Burger Bash. Guy's Bacon Mac N Cheese Burger [3] tied for People's Choice Award, and he didn't win that award just for snapping pictures with fans. A mac-and-cheese shell encapsulated the entire burger, which had a charred exterior and perfectly pink interior. And the donkey sauce [4] (mayo, garlic, worcestershire, mustard), despite the crude name, is frickin' delicious. The burger made another appearance this weekend, only this time, he took it a step further, surrounding the burger in truffle mac.
Photo: Anna Monette Roberts
Firecracker Mary's Chicken Lollipops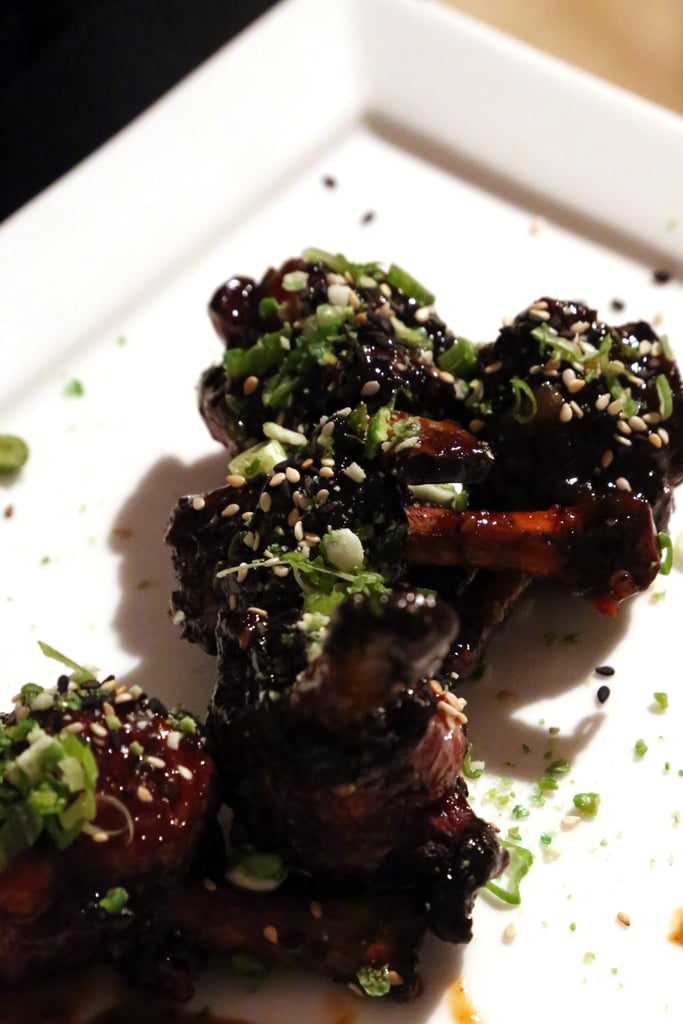 At Pebble Beach this weekend, Guy previewed items from his Vegas Kitchen & Bar, opening this Thursday. With crispy skin, honey-sriracha-soy sauce, and tender meat, the Firecracker Chicken Lollipops [5] (drumsticks) had such exceptional seasoning and precise cooking that I could have ended things right then and there with a plateful. Thank goodness Food Network has the recipe online, so I can re-create them at home.
Photo: Anna Monette Roberts
Crispy Tuna Tots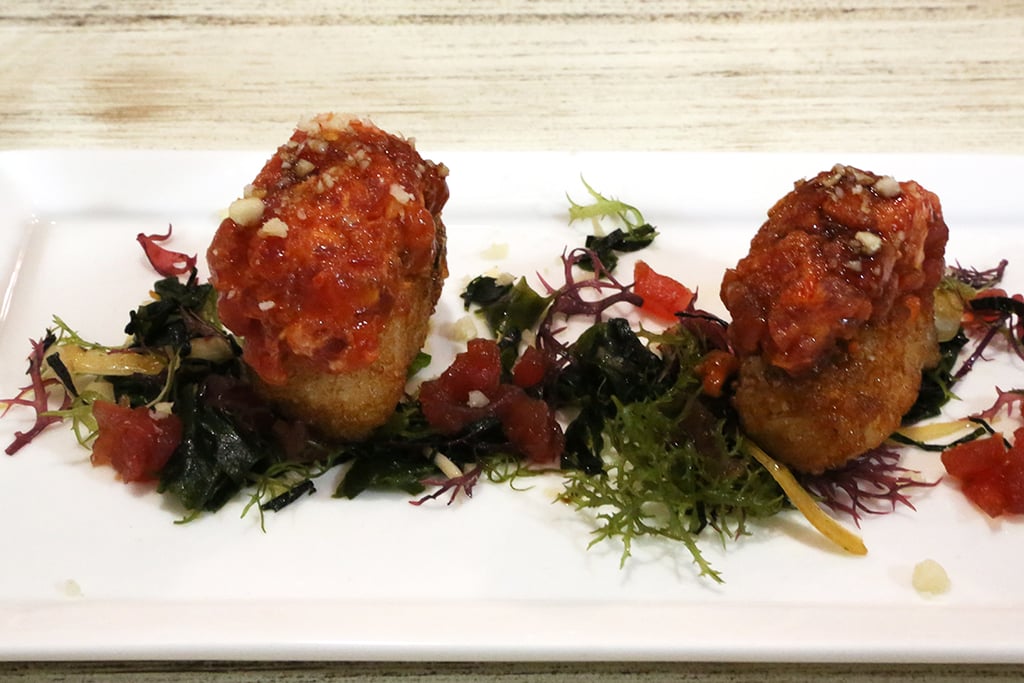 Next up, Guy served Crispy Tuna Tots [6] with a poke seaweed salad. I'll be honest: the name sounded obnoxious to me, and as I saw the globs of tuna atop these massive fried sushi-rice balls, I shuddered with uneasiness. However, I was surprised by how clean, simple, and appetizing the dish actually tasted. The sushi tuna salad dressed in sesame oil combined with the briny seaweed and the crisp rice tot — I could go on and on. The contrasting textures and balanced Japanese flavors made this plate easy to finish.
Photo: Anna Monette Roberts
Asian Glazed Short Ribs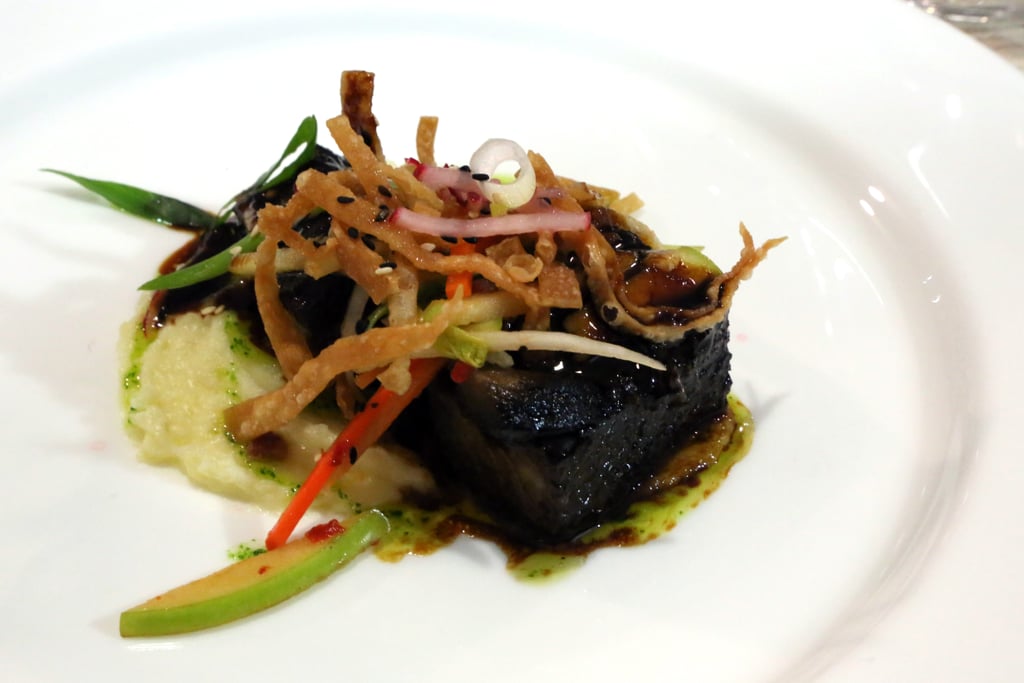 When I saw the bright green wasabi mash and a stack of fried wontons garnishing the Asian glazed short ribs [7], I grimaced in fear. But, 48 hours of marinating contributed to the flakiest, most fork-tender short rib I have ever eaten. And the umami-packed glaze caramelized the outside. Combined with the crunchy, raw, fermented kimchee apple slaw and the wonton pieces, every flavor and texture had equal representation.
After the course, Guy lifted a polished plate and yelled, "Raise your plates if you're in this category." Most of the room hollered and showed off their plates, empty save for the saucy remnants. One man did stand up and literally lick the plate clean. He received boisterous cheers and a shot of whiskey from Fieri.
Photo: Anna Monette Roberts
Amazing Antics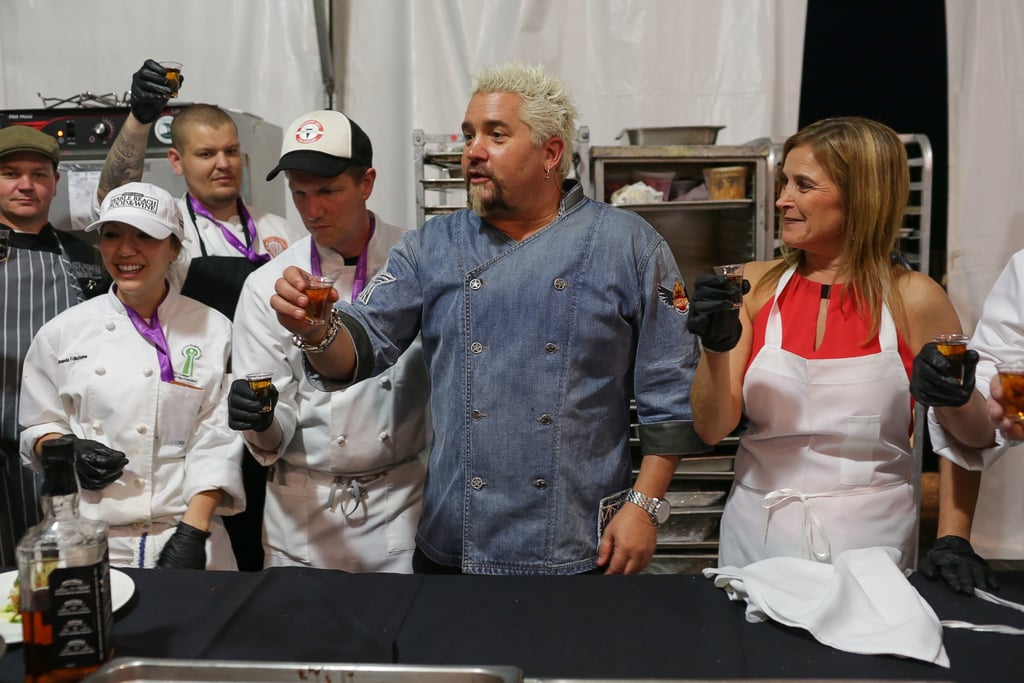 Guy's food may not redefine gastronomy, and it may not be considered refined. But — and this is an important but — he understands and delivers in flavor, doesn't take himself or the food too seriously, and knows how to humorously present himself and his cuisine. The cooking is precise, the seasoning is bold but not overpowering, and the crowds and his staff really love him. Yes, those bleached tips and catchphrases are laughable, but the man is a real-deal chef. There, I said it, and I'm sticking to my guns.
Source: Tomas Muscionico [8]