Guy Fieri Wing Sauces
Guy Fieri Hopes to Take Over the Wing World With New Sauces Out This Month
Aside from his new show with Rachael Ray, what's Guy Fieri been up to lately? Besides shilling signature framed sunglasses, our favorite bleach-tipped babe is capitalizing on the Super Bowl snack craze with a brand-new line of chicken wing sauces, out in stores this month.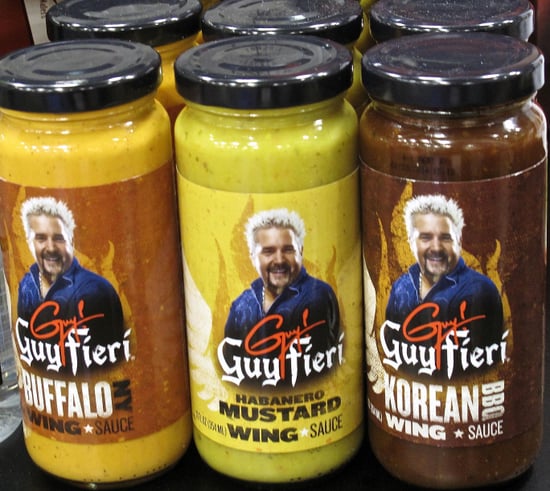 Guy! Guy Fieri offers three flavors of chicken wing sauce to float your bar-snacking boat: Buffalo NY, Habañero Mustard, and Korean BBQ. We tried them all. Find out whether they flamed or fizzled when you keep reading.
Habañero Mustard Wing Sauce: We were hoping to get all hot and bothered with this sauce, and we were prepared for it to set our tongues on fire. Sadly, it didn't. This sauce, which was more mustard than habañero, was really just a tease. Grade: D.
Korean BBQ Wing Sauce: As someone who grew up wishing she had an umma (that'd be Korean for mom) in the kitchen, I was psyched for this flavor. But it lacked the spicy-sweet complexity of homemade Korean-style chicken wings, and it left my mouth with a chemically aftertaste. Grade: C-.
Buffalo NY Wing Sauce: We're partial to anything that's buffalo-flavored, so we're going to cop to bias here, but this was our favorite flavor. It had the spirit of a true buffalo sauce, although we'd still prefer the original — made with Frank's RedHot — any day. Grade: C+.
Overall, we were disappointed in these sauces, which really just tasted bland and processed. But with his hand in so many proverbial pots, what more could we expect from Guy Fieri? Our advice: stick to selling your million-dollar smile and those Knuckle Sandwich Knives, which we secretly kind of like.