Halloween Candy Cookies
A Choose-Your-Own-Adventure, Candy-Covered Cookie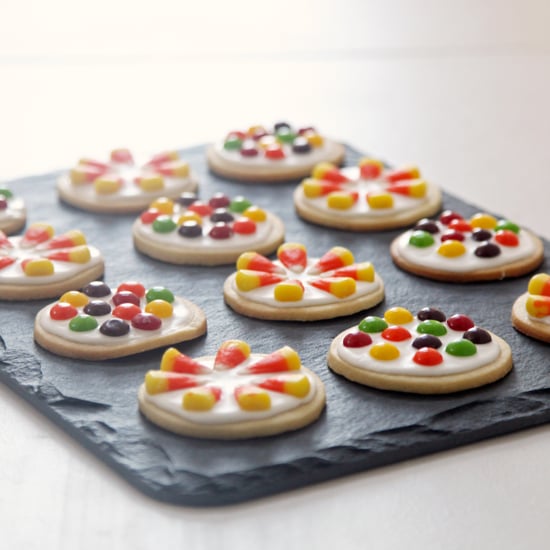 Some candies practically eat themselves, but others, like candy corn, tend to linger after the Halloween festivities have died down. Not to worry. We've got a fun, eye-catching way to upgrade these leftover candies into a treat worth sharing with friends. Essentially, instead of decorating iced sugar cookies with sprinkles, we're using whatever candy we have lurking in our cupboard. The only (loose) requirement: choose cheerily colored sweets like Skittles, Nerds, or candy corn for decoration, as their vibrant hues will add visual interest.
Candy-Covered Cookies
From Nicole Perry, POPSUGAR Food
Notes
For better flavor, up the amount of salt added to the cookie dough batter to 1 teaspoon (versus 1/4 teaspoon).
Ingredients
1 batch sugar cookie dough
1 pound powdered sugar
2 large egg whites
Candy, such as candy corn, Skittles, or Nerds
Directions
Preheat oven to 375°F. Line two half-sheet pans with parchment paper or Silpats.
Roll out cookie dough to 1/4 inch thick. Use a 3- to 3-1/2-inch-round cookie cutter to cut out the dough. Place the cookie-dough rounds at least 1 inch apart on the half-sheet pan, and bake for 8 to 10 minutes or until cookies are just beginning to turn brown around the edges, rotating cookie sheet halfway through baking time. Let sit on baking sheet for 2 minutes, and then transfer to a wire rack to let them cool completely.
While the cookies cool, combine the powdered sugar and egg whites in the bowl of a stand mixer. Mix on low speed until completely blended and the icing holds a ribbon-like trail on the surface of the mixture for 5 seconds when you raise the paddle. If it's too thick, then add water 1 teaspoon at a time; if it's too thin, then add powdered sugar 1 tablespoon at a time until it reaches the desired thickness.
To decorate, spread a thin layer of the royal icing on a cookie, and then arrange the candy on top, working with one cookie at a time. Allow the icing to dry and harden completely before storing or stacking the cookies.
Information
Category

Desserts, Cookies

Cuisine

North American

Yield

About 30 cookies