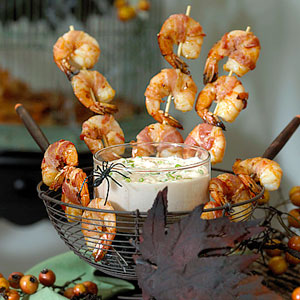 If you have plans to party-hop this Saturday night to celebrate Halloween, why not make an entire evening out of it by inviting friends over beforehand for a simple and spirited dinner? Especially if drinking is on the agenda, you'll want to fill up on some hearty carbs. Start with devils on horseback, a crowd-pleasing appetizer that involves bacon-wrapped shrimp and a spicy dipping sauce. For the main course offer bats and cobwebs: bow tie pasta with melted mozzarella cheese, tomato sauce, and chicken sausages. Throw in a mixed green salad, crusty bread, and you've got a Halloween meal.
Get the easy recipes I recommend, after the jump.
Ingredients
48 large shrimp (approximately 2 lbs. - with shells), shelled and deveined
1/4 cup dry white wine
1 teaspoon finely shredded lemon peel
1 to 1-1/2 teaspoons prepared garlic chili sauce
1/2 teaspoon salt
6 strips bacon, quartered (in half lengthwise and then again cross), flattened with the back of a knife to prevent curling
wooden toothpick
2/3 cup mayonnaise
2 tablespoons lemon juice
1 tablespoon prepared chili garlic sauce
1 teaspoon salt
2 green onions, finely chopped (both white and green parts)
Directions
Combine shrimp, wine, lemon peel, 1 to 1 1/2 teaspoons chili garlic sauce, and salt in nonreactive dish. Marinate for 15 minutes.
Remove shrimp and drain on paper towels; discard marinade.
Wrap each shrimp in a piece of bacon, securing bacon by skewering shrimp with wooden toothpick (neck to tail in a half-moon).
Preheat broiler. (Position oven rack so the food will be 3 to 4 inches from the heat.) Place shrimp in a single layer on an unheated rack of a broiler pan. Broil, turning twice, until shrimp are opaque and bacon is cooked through and crisp (7 to 9 minutes total).
For remoulade, stir together mayonnaise, lemon juice, 1 tablespoon prepared chili garlic sauce, 1 teaspoon salt, and green onions. Cover and chill until serving time.
If desired, thread broiled shrimp onto fondue forks or 8- to 10-inch wooden skewers. Serve shrimp with sauce.
Makes 48 shrimp (12 to 16 servings).
Information
Category

Seafood, Appetizers

Cuisine

North American
Ingredients
1/2 pound bow tie pasta
1 teaspoon olive oil
1 garlic clove, minced
1 can (28 ounces) whole peeled tomatoes in puree
1/4 teaspoon dried oregano
1/8 teaspoon sugar
Coarse salt
2 precooked chicken sausages (about 3 ounces each), cut crosswise into 1/4-inch-thick rounds
8 ounces mozzarella cheese, cut into small cubes (1 3/4 cups)
1/4 cup grated parmesan cheese
Directions
Preheat oven to 400 degrees. Cook pasta according to package instructions. Drain; set aside.
Meanwhile, in a large saucepan, heat oil over medium. Add garlic; cook until fragrant, about 1 minute. Add tomatoes, oregano, and sugar. Bring to a boil, reduce to a simmer; cook, stirring and breaking up tomatoes until slightly thickened, 5 to 8 minutes. Season with salt.
Add pasta, sausage, and half the mozzarella; toss to combine. Transfer to a 2-quart baking dish.
Top with remaining mozzarella and parmesan. Bake until bubbly and top is lightly browned, 10 to 15 minutes.
Serves 4.
Information
Category

Pasta, Main Dishes

Cuisine

Italian