Ham and Herb Schnitzel With 6-Minute Egg Recipe
Ham and Herb Schnitzel With 6-Minute Egg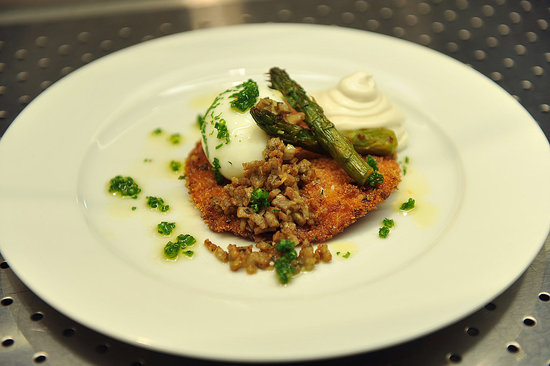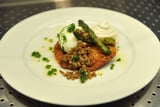 Ingredients
For whipped maple topping:
2 tablespoons maple syrup, such as Blis
1/2 cup heavy whipping cream
For sausage vinaigrette:
4 ounces sausage, patty style breakfast
2 tablespoons onion, finely diced
1 teaspoon garlic, minced
1 teaspoon ginger, fresh, grated
1 teaspoon sage, fresh, chopped
2 tablespoons sherry vinegar
For asparagus:
1 1/2 teaspoons olive oil
1 1/2 teaspoons chili paste, such as harissa*
8 to 12 spears asparagus, trimmed
1/2 lemon
Salt and black pepper
For eggs:
4 large eggs
Salt and black pepper
For pork:
4 ham steaks, trimmed, about 1/4-inch thick
2 large eggs
1 teaspoon dijon mustard
1 teaspoon hot sauce, such as Crystal
1 cup panko bread crumbs
2 tablespoons fresh flat-leaf parsley, finely chopped
1 tablespoon basil, fresh, finely chopped
1 tablespoon chives, fresh, finely chopped
1 teaspoon tarragon, fresh, finely chopped
3 cloves garlic, minced
2 to 4 tablespoons lard, also known as manteca, or more if needed
Directions
Make the whipped maple: Using an electric mixer with a whisk attachment, whip cream to stiff peak. Fold in maple syrup. Set aside in the refrigerator.
Make the sausage vinaigrette: In a medium skillet over medium heat, combine sausage, onion, garlic, ginger, and sage. Cook, stirring occasionally and breaking up sausage, until sausage is browned and cooked through, about 5 minutes. Stir in vinegar, scraping up any browned bits in the skillet. Remove from the heat, cover to keep warm, and set aside.
Make the asparagus: Preheat the oven to 350 degrees F. In a small bowl, combine oil and harissa. Arrange asparagus on a rimmed baking sheet and spread with harissa mixture. Season with salt and pepper. Roast until tender, about 10 minutes. Squeeze juice from lemon over asparagus. Cover to keep warm and set aside.
While asparagus is roasting, make the eggs. Prepare an ice bath and set aside. In a medium saucepan of boiling water, cook eggs for exactly 6 minutes. Transfer eggs to the ice bath and set aside until cool enough to handle. Peel eggs, then season with salt and pepper. Cover to keep warm and set aside.
Make ham cutlet: Place flour in a large, shallow bowl. In another large, shallow bowl, whisk eggs, mustard, and hot sauce. In a third large, shallow bowl, combine panko bread crumbs, parsley, basil, chives, tarragon, and garlic.
In a very large skillet over medium-high heat, warm 2 tablespoons lard. Working one cutlet at a time, dredge in flour mixture, egg mixture, and panko mixture. Add cutlets to skillet and cook, in batches if necessary and using more lard as needed, until golden and crisp, about 2 minutes per side. Transfer cutlets to a plate and cover to keep warm.
To serve, arrange cutlets on plates, and spoon on breakfast sausage vinaigrette. Arrange egg on top and asparagus along side. Garnish with whipped maple.
Serves 4.
Information
Category

Main Dishes, Pork

Cuisine

North American