Handmade Noodle Tips
Andrew Zimmern's 7 Steps to Handmade Noodle Success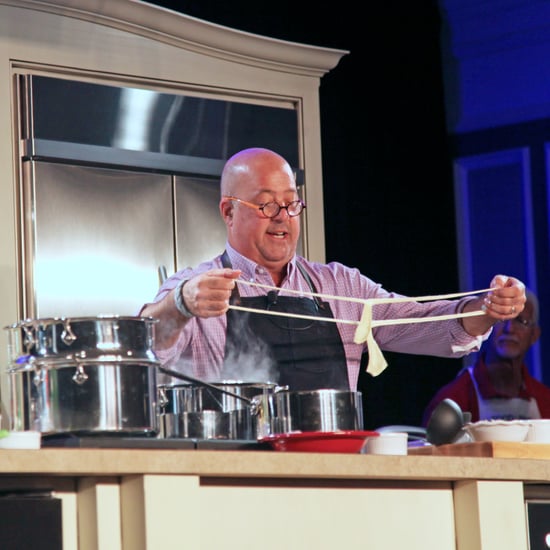 Making homemade noodles might seem like a dish best left to professional chefs, but Andrew Zimmern wants to change that. While the Bizzare Foods host showed off his challenging Chinese hand-pulled noodle technique at the Food & Wine Classic in Aspen, he also peppered his cooking demonstration with useful tips when making any from-scratch noodle recipes. Here are his steps to noodle success:
Use the right tools: Unless your kitchen is outfitted with stainless-steel countertops, Zimmern suggests picking up an 8-by-30-inch stainless-steel door kick plate for about $3 from the hardware store and duct-taping it to your counter. This slick surface makes shaping dough infinitely easier and is also a "great tool for pasta and baking work." Still skeptical? "You're just going to have to trust me on this," he quipped. "It's something you need."
Get gluten forming: Unlike pasta, choux, or pie dough, this dough isn't delicate or supertender, and it can handle a little roughness. Zimmern made the dough for the noodles in a stand mixer, further promoting gluten formation by adding all of the water in one addition to the flour. Zimmern explained that "the chewier they are, the better."
Keep reading for more steps to slippery-noodle success.
Let the dough rest: Once the dough pulls away from the bowl, shape it into a disc, wrap it in plastic wrap, and let it rest for at least an hour in the fridge, as this allows the moisture to redistribute and for the gluten to knit together. After the initial rest, cut the dough into smaller, workable pieces, oil them generously, arrange them on a half-sheet pan, cover it with plastic wrap, and allow it to rest further.
Don't get discouraged: Whether hand-pulled or something else, no matter what your noodle shape is, noodle technique takes practice to perfect. If you run into trouble shaping the noodles, don't give up!
Choose appropriate toppings for the noodles: Even if you're not working with Zimmern's pulled noodle recipe, know that thick noodles need bold flavors to match. Opt for braised red meat or a thick, well-seasoned peanut sauce. Add flavor and texture to the "chewy, floury canvas" with toppings like fried shallots or chopped Chinese chives.
Cook the noodles: Briefly cook the noodles in a pot of boiling water for about a minute or until just tender, adding the smallest noodle last so that they cook evenly. Pull the cooked noodles out with a skimmer or basket, dress with the sauce, and devour.
Last but not least, enjoy yourself: Just remember to have a good time! "The most important thing," he reminded the crowd, "is that it's fun to make."