 Every year I always ask YumJimmy if he'll make a cake for my birthday, and every year he says someday. I really thought this was going to be the year, but he had something else up his sleeve. Instead of a birthday cake, he decided to make me birthday doughnuts. The recipe comes from John T. Edge's book Donuts: An American Passion, and it whips up quite quickly. Sadly we were out of powdered sugar, but luckily we had some chocolate that was melted down for a quick glaze. Topped with a layer of hot pink sprinkles, this is one birthday treat to remember! If you want to check out the recipe for yourself — it was pretty easy, just give it a try! —
.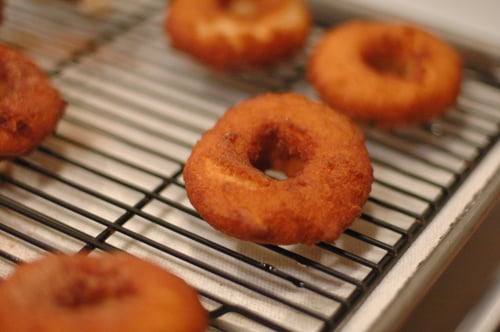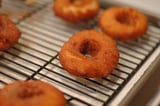 Ingredients
6 cups all-purpose flour
2 cups plus 2 tbsp sugar
1/2 tsp salt
4 tsp baking powder
1 tbsp lard or shortening
2 large eggs
1 1/2 cups whole milk
1/2 gallon vegetable oil for frying
Directions
In a large mixing bowl, combine the flour, 2 cups of the sugar, the salt, and baking powder. Rub in the lard or shortening with your fingertips until the mixture is pebbly [I didn't really achieve "pebbly" but it came out fine.] Set aside.
In a medium bowl, beat the eggs well, then beat in the milk. Set aside.
Working either directly on your flour board, or in a shallow pan [I used a baking sheet.], create a well in the center of the flour mixture.
Pour the egg-milk mixture into the well and start working the dry ingredients into the wet, using a pastry scraper or your hands to gently fold the dry and wet ingredients together. Be careful not to knead the dough like bread; work it gently to avoid creating a chewy texture.
Turn the resulting mound over a couple of times on a lightly floured surface and roll out with a rolling pin to 1/4-inch thickness. [It might be easier to sandwich the dough between two sheets of parchment paper.]
Pour the oil into a cast-iron Dutch oven or other deep, heavy-bottomed pot until it reaches a depth of 3 or 4 inches.
Heat the oil over medium-high heat to 325F. [We couldn't find the right thermometer, so we eyeballed it. Test with scraps of dough until it seems right.]
Using a dough cutter [I used a measuring cup.], cut the dough into rounds, then cut out a smaller round from each for the center. Gather the scraps and reroll the dough as necessary.
Fry each loop for two minutes per side or until puffed and golden. Remove with a slotted spoon [I used wooden chopsticks.] and drain on wire racks.
Toss the cinnamon and remaining 2 tbsp of sugar together in a large brown paper bag. While the donuts are still warm, add a few at a time, shaking to cover with cinnamon sugar.
Information
Category

Desserts, Doughnuts