Happy Brunch Hour: Great Uncle's Gin Fizz
Happy Brunch Hour: Great Uncle's Gin Fizz I love brunch and even more so, I love brunch cocktails! This past weekend, my great uncle taught me how to make his effervescent, tangy, and delicious gin fizz.
There are many different types of gin fizzes. The simplest version combines gin, lemon juice, sugar, and carbonated water. The Ramos Gin Fizz, a New Orleans classic, dates back to 1888, and jazzes up the recipe by adding lime juice, cream, orange flower water, and egg white.
My great uncle has perfected his variation to include gin, sugar, cream, lime juice, orange juice, soda water, ice, and one whole egg. The egg made me a little nervous, but it adds a fabulous texture and frothiness to the blended drink. If you don't want to use raw eggs, substitute powdered egg white.
To add a little fizz to your weekend brunch,
.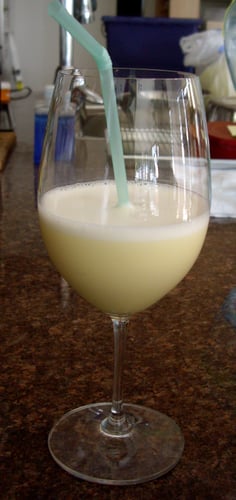 Great Uncle's Gin Fizz
Original Recipe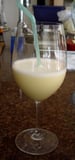 Ingredients
8 ounces Gin (I used Bombay Sapphire)
2 ounces fresh lime juice
2 ounces orange juice
1 whole egg
4 ounces cream
5 teaspoons sugar
8 ounces club soda
ice
Directions
Blend gin, lime juice, orange juice, egg, cream, sugar, and ice in a blender until smooth.
Divide among 4 festive glasses. Float 2 ounces of club soda on top of each cocktail and stir to combine. Add a straw and enjoy!
Makes 4 cocktails.
Information
Category

Drinks, Cocktails