Happy Hour: Amaretto-Cranberry Kiss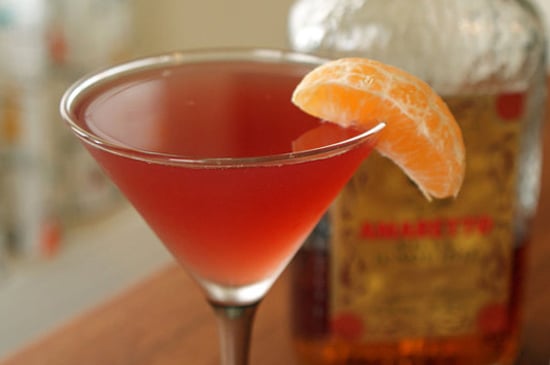 Any other time of year, a cocktail with "kiss" in the name might make me roll my eyes. But for Valentine's Day, this bright red, Winter-y drink is perfectly appropriate. Despite the name, I count the Amaretto-Cranberry Kiss among my favorite cocktails.
Like some of the best couples, amaretto and cranberry juice are an unlikely match, but highly compatible, and this vibrant cocktail tastes smooth, tart, and not too sweet. This time, I used sparkling cranberry juice from Trader Joe's (stirred, not shaken), which added a fun twist. Garnish with a seasonal clementine slice and toast to whatever you fancy. Get the recipe now.
Ingredients
2 cups cranberry juice cocktail
1 cup vodka
1/2 cup amaretto
3 tablespoons fresh orange juice
Ice cubes
Clementines, peeled, separated into segments
Directions
Mix cranberry juice, vodka, amaretto, and orange juice in pitcher. Cover and chill until ready to serve. DO AHEAD: Can be prepared 1 day ahead. Keep refrigerated.
To make 2 drinks, fill cocktail shaker with ice cubes. Pour in scant 1 cup vodka mixture. Cover and shake vigorously. Strain into 2 martini glasses. Garnish each with clementine segment. Repeat 3 times with ice cubes, remaining vodka mixture, and clementine segments.
Information
Category

Drinks, Cocktails

Cuisine

North American