 During the Summer's peach season, I love to enjoy bellinis. Similar to a mimosa, a bellini is Prosecco diluted with fresh white-peach puree. When made with perfectly ripe peaches, this glamorous cocktail is slightly sweet and delicately bubbly.
Named for the 15th-century Venetian painter, Giovanni Bellini, the drink was created at Harry's Bar in Venice sometime between 1934 and 1948. Now it is considered a classic cocktail and can be found on menus across America.
To make the peach puree, score a cross on the bottom of each peach with a knife.
Drop into a pot of boiling water for a couple minutes, plunge into an ice-water bath, and remove the skin. Chop into chunks, puree in the blender, and strain through a fine mesh sieve. For the proportions of this sublime concoction,
.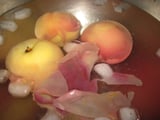 Ingredients
3 ounces Prosecco or other sparkling wine
2 ounces fresh white-peach puree
Directions
Mix and serve in champagne flute.
Makes 1 cocktail.
Information
Category

Drinks, Cocktails

Cuisine

Italian