Happy Hour: Blue Gin Rizz The other day I was at the farmers market when I noticed a sad sign saying, "last day for blueberries." I immediately purchased a pint with the intention of using them in a delectable drink. While the original recipe, from H. Joseph Ehrmann of San Francisco's Elixir, calls for kumquats, I couldn't find them, so I substituted fresh peaches.
The final concoction is refreshing, tangy, and light. The ginger liqueur stabilizes the natural bite of the gin resulting in a cocktail that is balanced and easy to drink. It would be great paired with food, but it's also lovely when sipped solo. To say cheers to the weekend with this recipe,
.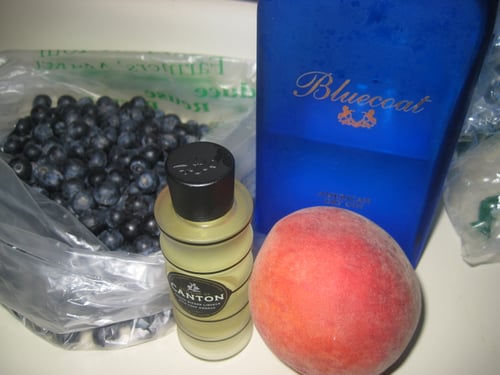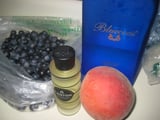 Ingredients
1 1/2 ounces gin (recommended: Bluecoat)
1/2 ounce Canton Ginger Liqueur
1/2 ounce simple syrup
3 kumquats (approx 1" in size)*
Handfull blueberries
Directions
Muddle kumquats and blueberries in a mixing glass.
Add all other ingredients, fill with ice and shake well for 10 seconds. Hawthorne strain** into a highball glass of fresh ice and top with a few blueberries and slices of kumquat.
Makes 1 cocktail.
*I used 1/4 of a ripe peach, peeled and chopped into chunks because I couldn't find kumquats.
**My strainer was missing so I didn't strain the cocktail. It was still delicious.
Information
Category

Drinks, Cocktails