Happy Hour: Blueberry Crush Last Saturday night I attended an opening party for a new exhibit at the de Young museum here in San Francisco. Lately I've been trying to develop a taste for gin and tequila, so I order the gin specialty cocktail, something pretty with floating blueberries called a Blueberry Crush. I talked to the lovely ladies over at Plymouth Gin - one of the sponsors of the event and the creator of the drink. On Saturday night when I drank the cocktail, I was certain pomegranate juice was a part of the concoction, but when I got the recipe I was surprised to see that it is a mix of fresh blueberry puree and Sweet & Sour mix. At the party, the blueberry crush was made with Plymouth but you can make it with whatever gin you prefer. I think I'll give this one another try in my own kitchen. To do the same,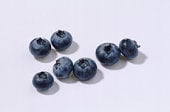 Blueberry Crush
From Plymouth Gin
1.5 oz gin
1 oz
Homemade Sweet & Sour Mix
1 oz fresh blueberry puree
4-6 blueberries, garnish
Stir gin, puree, and sweet and sour mix to combine. Pour into a tall glass filled with ice.
Garnish with blueberries.