 The weather warmed up this weekend, and a wonderfully refreshing drink was definitely a must. Looking for inspiration, I flipped through the latest issue of Imbibe magazine and came across a Brandy Julep. With a Kentucky Derby Party just around the corner, I knew I had found my drink. It's a sweet treat for a hot day, and a nice twist on a classic cocktail. To get the recipe,
.
Note: If the day is warm enough the ice will start to melt and dilute the drink a bit. At first I was worried that it would be a problem, but soon realized that the melting ice toned down the sweetness of the drink .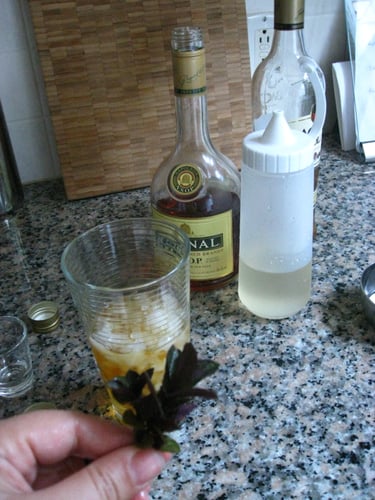 Brandy Julep
From Imbibe magazine, May/June 2008
Ingredients
1 1/2 oz. brandy
1/4 oz. Jamaican (dark) rum
1 oz. simple syrup
3-4 fresh mint sprigs*
crushed ice
Directions
Fill a highball glass halfway with crushed ice.
Add ingredients and stir, bruising the mint lightly with the spoon.
Garnish with season fruits.
*Note: My mint looks dark because it is a chocolate-mint variety. It just happens to be the one that is growing rampant in my back yard, and doesn't actually have much chocolate taste at all. Any mint variety should do.
Information
Category

Drinks, Cocktails