My first nip of a Corkscrew elicited a "yum!" but had I examined the ingredients beforehand, I might have thought "yuck." Rum isn't really my liquor of choice, and peach liqueur plus dry vermouth just sounds like a bad combination. But in fact, the Corkscrew accomplishes just what a good cocktail should: It brings together three disparate ingredients to create an entirely new (and delicious) flavor. The dry vermouth is an excellent counterbalance to the peach schnapps, which would otherwise be too sugary. As a result, this martini-style cocktail has a summery fruit flavor with just a hint of sweetness that will appeal even to drinkers who don't tend toward fruity drinks. To get the recipe,
.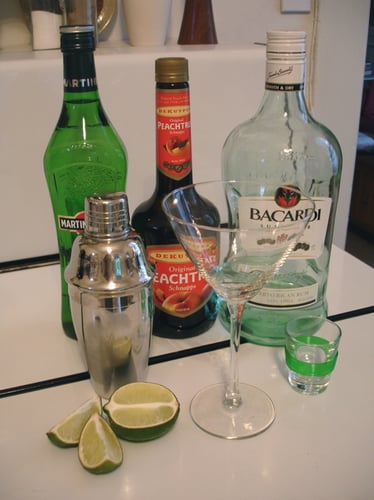 Ingredients
1 1/2 oz. light rum
1/2 oz. dry vermouth
1/2 oz. peach liqueur
Squeeze of lime juice
Directions
Combine all four ingredients in a cocktail shaker and strain into a martini glass. Garnish with a twist of lime peel.
Information
Category

Drinks, Cocktails

Cuisine

North American