Happy Hour: Easy Mango Mojito When the weather gets warm, I crave mojitos, but ordering one in a crowded bar makes bartenders groan. This bane of a bartender's Summer existence is also very time intensive to make at home, since you have to muddle mint, juice limes, and make simple syrup.
I've also noticed more bars offering mojitos with muddled mango, which are even more trouble to make. Since I love them so much, I came up with this shortcut version of a mango mojito that requires very little effort and fewer ingredients.
This totally simple Summer cocktail uses store-bought mango puree and lime-flavored sparkling water. It needs just a little bit of muddling. If you have fresh mango at home, you can use a slice as garnish, but it's not required. Since this mojito contains no additional sugar or simple syrup, it's not too sweet and very refreshing.
To get the recipe, read more.
Easy Mango Mojito
Original Recipe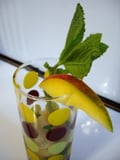 Directions
Drop the mint leaves into the bottom of a sturdy glass and cover with 1 ounce of rum. Let it sit for 1 minute to allow the mint leaves to soften.
Using a muddler or the handle of a wooden spoon, coarsely muddle the mint leaves so that they are broken into large pieces.
Add 1 ounce mango puree and stir vigorously.
Drop 3 to 4 ice cubes into the glass, then top with lime sparkling water.
Garnish with mint sprig and serve.
Makes 1 cocktail.
Information
Category

Drinks, Cocktails

Cuisine

Other