 Recently I attended a female-only cocktail competition hosted by Nirvino. While I've been to many cocktail competitions, I always look forward to Nirvino's monthly contest because the crowd gets to taste each cocktail and ultimately decides the winning drink. Nirvino is an exciting social networking community where drinking is the common denominator. You can rate drinks, bars, bartenders, wine, beer, and different kinds of liquor.
Its a fun concept that makes for an interesting event. After tasting each cocktail everyone gets on their iPhones or Blackberrys to rate the drink. This competition featured Square One Cucumber vodka and the winning bartender was Brooke Arthur from Range restaurant in San Francisco.
Her Fall Fizz delightfully combined the fresh flavors of cucumber, apple, and pear. Lemon juice adds an acidic balance and a dusting of cinnamon gives this drink a holiday feel. Like the gin fizz, it includes egg whites. I can't promise you won't get salmonella, but your drink will be deliciously frothy! To check out Brooke's recipe and a video of her mixing at the competition,
.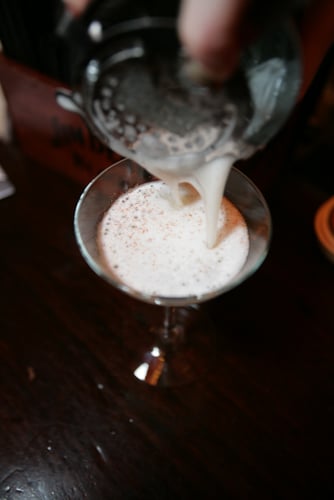 Fall Fizz
From Brooke Arthur of Range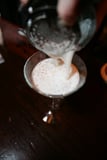 Ingredients
1 1/2 ounces cucumber vodka (recommended: Square One)
1/4 ounce apple brandy (recommended: Coeur de Lyon Calvados)
1/4 ounce pear liqueur (recommended: Poires Pear Liqueur)
1/2 ounce egg whites
1/2 ounce fresh squeezed lemon juice
grated cinnamon, for garnish
Directions
Combine all ingredients in a cocktail shaker.
Shake without ice for 30 seconds to emulsify the egg whites.
Add ice to the shaker and shake for another 30-45 seconds.
Strain into a martini glass. Garnish by grating cinnamon over the top of the cocktail.
Makes 1 cocktail.
Information
Category

Drinks, Cocktails