Happy Hour: Ginger Beer Cooler Last night, I dined at a local Burmese cafe with a friend. While we went there for dinner, which was delicious, I wound up getting tipsy on these beer drinks called Burma coolers.
With a lemon zing and tangy ginger finish, they were wildly refreshing, so I tried to re-create them at home.
To see how I made my version of this divine drink,
.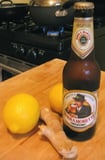 Ingredients
1/2 ounce simple syrup
Fresh ginger root
Juice of 1 large lemon
12 ounces chilled pilsner-style beer*
lemon wedge, optional for garnish
Directions
Grate the ginger, peel on, until you have approximately 1 tablespoon of grated ginger. Squeeze the juice out of the grated ginger using a cheesecloth or a fine sieve.
Pour 3/4 teaspoon freshly squeezed ginger juice (reserve rest for another use) and lemon juice into a pint glass, along with the simple syrup. Top with beer.
Garnish with a slice of lemon.
Serves 1.

*I used Birra Moretti.
Information
Category

Drinks, Summertime

Cuisine

Other Asian