Happy Hour: Green Grape Sangria When I saw this recipe for white wine sangria in the July issue of Gourmet magazine, I knew I had to make it. I wasn't disappointed when I did; this sangria is phenomenal.
It's fresh, fruity, and refreshing without being overly sweet. The mint adds an herby aroma to the wine, and the absence of fruit chunks makes for smooth, easy drinking. The recipe calls for Pinot Grigio, but I used a dry Riesling from Trader Joe's.
To learn how to make this divinely sip-able sangria,
.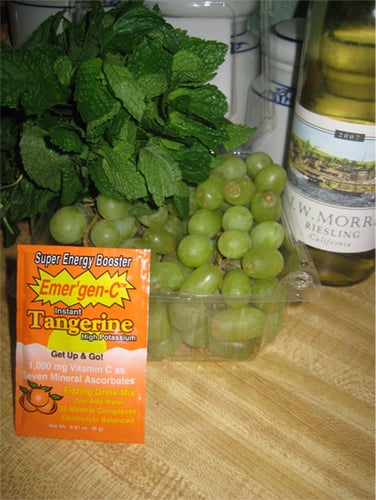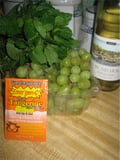 Ingredients
1 pound green grapes
2 small Granny Smith apples, coarsely chopped
1/4 cup packed mint leaves
3/4 to 1 cup sugar (to taste)
1 (500-mg) vitamin C tablet, crushed to a powder with back of a spoon
2 bottles dry white wine (preferably Albariño or Pinot Grigio)
Directions
Pureé grapes, apples, mint, sugar, vitamin C, and 2 cups wine in 2 batches in a blender until smooth. Transfer pureé to a pitcher and stir in remaining wine.
Chill, covered, at least 2 hours and up to one day.
Before serving, strain through a fine-mesh sieve into a bowl, pressing on solids. Serve over ice.
Makes 2 quarts.
Information
Category

Drinks, Punch

Cuisine

Spanish/Portuguese