Happy Hour: Lemon Mint Julep Sometime last week, I came to the realization that I've never had a mint julep. I decided immediately to mix up a round of cocktails. To be authentic, I wanted to serve the icy drink in silver mint julep glasses. However, finding the glasses is not easy. I searched ShopStyle. I called Williams-Sonoma, and Sur la Table. I texted my bartender buddies. To no avail. I couldn't find mint julep glasses anywhere!
Since the vessel does not affect the flavor of the drink, I made it anyway. I'm relieved I did because this classic cocktail is fantastic. With its crushed ice, fragrant mint leaves, zesty lemon syrup, and potent Bourbon, it's surprisingly refreshing and fun to drink. I highly recommend you make one to celebrate the Kentucky Derby.
If your heart is set on serving the concoction in the traditional glass, Stephen Liles, bartender at San Francisco's Boulevard restaurant, told me he got his from a local florist. To look at the recipe,
.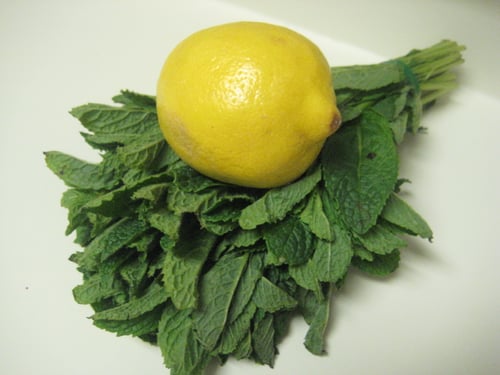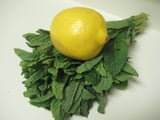 Ingredients
17 lemons
3 1/2 cups sugar
32 sprigs mint
Crushed ice
3 cups Kentucky bourbon
Directions
Squeeze 16 of the lemons, reserving the rinds and juice.
In a large saucepan, combine 3 cups of the sugar and 3 cups water, stirring until dissolved. Add the lemon rinds*, and cook over medium heat until the liquid becomes syrupy, about 15 minutes. Remove from heat, and let stand until room temperature.
Remove, and discard lemon rinds. Stir in the lemon juice, about 4 cups.
Spread remaining 1/2 cup sugar on a small plate. Cut the remaining lemon into quarters.
Rub the wedges along the rims of 16 mint-julep cups or tall glasses, and invert the glasses in the sugar to create a sugared rim.
Crush a few mint leaves into the bottom of each glass with a muddler or the back of a wooden spoon.
Fill each glass with ice, and pour 1/2 cup of lemon syrup in each glass. Top off with about 1 1/2 ounces of bourbon per glass. Garnish each glass with a fresh sprig of mint.
Makes 16.
*Be sure to remove the stickers from the fruit before adding to the syrup.
I made 1/4 of the recipe. I used the juice from four lemons and combined 3/4 cup each of sugar and water to make the syrup.
Information
Category

Drinks, Cocktails