Happy Hour: Lemonade Mojito The other day, I cohosted a barbecue so, of course, I served a signature cocktail. As an added challenge, the barbecue was actually a baby shower, and the guest of honor was pregnant. So I searched for a recipe that would be just as refreshing without booze as with it.
I dug this recipe out of my recipe file, ripped out of InStyle magazine years ago and just waiting for its moment. It's great for big groups since it can be made in large batches, and I like that it uses vodka instead of the usual rum, since I have a lot of friends who find rum off-putting.
It's very tart and sufficiently sweet, and without the vodka, it's just a minty homemade lemonade. To get the recipe, read more.
Lemonade Mojitos
InStyle magazine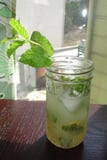 Ingredients
1/2 cup mint leaves, plus mint sprigs for garnish
1 cup sugar syrup (recipe follows)
5 cups club soda
4 cups vodka
4 cups fresh lemon juice
2/3 cup superfine sugar
Directions
To make the sugar syrup, heat 1 cup sugar and 1 cup water over low heat, stirring with wooden spoon until sugar has dissolved. Stop stirring and increase heat to medium. Simmer 2 minutes. Remove from heat and let cool; refrigerate 2 hours before using.
In large bowl, muddle 1/2 cup mint leaves with sugar syrup.
Stir in club soda, vodka*, lemon juice, and 2/3 cup superfine sugar. Chill.
Pour into ice-filled pitchers with lemon rounds and mint sprigs; serve in tall glasses.
* To make a nonalcoholic batch of lemonade, reserve the vodka and add 1 1/2 ounces to each glass before pouring.
Information
Category

Drinks, Cocktails