 Ever since I made Peartinis in January, I've had a bottle of Grey Goose La Poire chilling in my freezer and wondering when it might be useful again. Sometimes I'll mix it with club soda, but this weekend I decided to seek out another cocktail recipe to let this (surprisingly delicious) pear vodka take center stage.
I never would have expected to find it in a sazerac, a classic New Orleans cocktail made with Pernod or another anise-flavored liqueur.
This version replaces the traditional rye whiskey with pear vodka, and though the concept sounded bizarre, the cocktail was pleasingly crisp with an intensely fresh fruitiness and just a hint of licorice flavor. To get the recipe,
.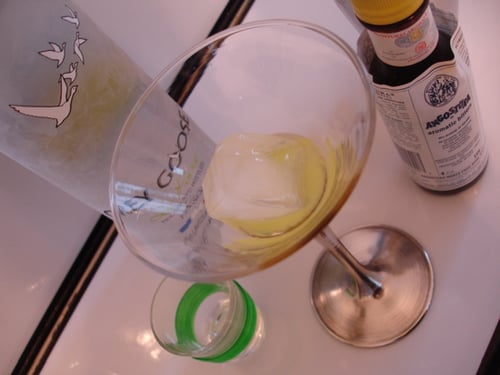 Ingredients
Ice
0.25 oz. anise-flavored liqueur, such as Pernod
2 oz. pear vodka, preferably Grey Goose La Poire
0.5 oz. simple syrup*
3 dashes bitters, such as Angostura or Peychaud brand
1 pear wedge, for garnish
Directions
Place an ice cube in a martini glass and add the anise-flavored liqueur. Swirl to coat the glass and let it stand to chill for a few minutes.
Meanwhile, fill a cocktail shaker with ice. Add the pear vodka, simple syrup, and bitters, stirring vigorously.
Empty the ice and liqueur from the glass. Strain the pear vodka mixture into the coated martini glass; garnish with the pear wedge.
Makes 1 cocktail.
* To make simple syrup:
Bring 1 cup water to a boil in a small saucepan over medium-high heat. Add 1 cup sugar and cook, stirring constantly, until it has dissolved, about 30 seconds. Reduce the heat to low and simmer until just slightly thickened, about 5 minutes. Remove from the heat; set aside to cool. May cover tightly and refrigerate for up to 3 weeks. Makes about 1 1/4 cups.
Information
Category

Drinks, Cocktails