Happy Hour: Piña Colada Mojito The other day while searching for the ultimate piña colada recipe, I came across this recipe for a piña colada mojito. Intrigued, I decided to find out how lime and mint combine with pineapple and coconut. The final result was absolutely divine, a refreshing mix of tart, sweet, and creamy flavors. Since it's not blended, this cocktail is much lighter than the common piña colada, making it easier to drink a couple rounds. The ingredient list calls for both pineapple and coconut rums, but I used pineapple and regular rum because I wanted a less sweet variation. To learn how to make this tantalizing concoction, read more.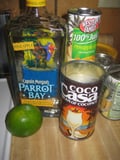 Ingredients
1/4 lime, cut into 4 pieces
8 fresh mint leaves
2 teaspoons raw cane sugar
1 cup crushed or chipped ice
1 tablespoons Mint Syrup, recipe follows
1 tablespoon unsweetened coconut milk
1 tablespoon pineapple juice
2 tablespoons pineapple flavored rum
2 tablespoons coconut flavored rum
Splash seltzer water
Sugar cane sticks, for garnish
Fresh mint leaves, for garnish
Mint Syrup:
2 cups granulated sugar
1 cup water
1 cup packed fresh mint leaves
Directions
Place lime pieces in a 12-ounce glass and top with mint leaves and cane sugar. Using a muddler, crush the lime pieces while bruising the mint with the sugar.
Fill the glass just below the rim with the ice. Add the mint syrup, coconut milk, pineapple juice, pineapple rum and the coconut rum.
Use a shaker to vigorously shake the contents of the glass together for at least 30 seconds. Pour the mojito back in the glass, and top off the glass with seltzer water. Place a sugar cane stick in each glass and garnish with fresh mint leaves. Serve immediately.
Makes 1 drink.
To make the mint syrup:
Place the sugar and the water in a small saucepan. Bring to a gentle boil over medium-low heat, stirring occasionally to help dissolve the sugar.
While the syrup heats, rinse the mint leaves to eliminate any dirt.
Once the sugar has dissolved, remove the syrup from the heat, and dump the mint leaves into the saucepan. Allow the syrup to cool for at least 1 hour before straining out the mint. Store the syrup in an airtight container and place in the refrigerator until ready to use. Syrup will keep, refrigerated, for several weeks.
Information
Category

Drinks, Cocktails